Caution:  Construction Zone

i got lots of help building this Tractor coop.  Pat, BYC ID is patandchickens, has answered tons of questions.  This isn't exactly what she would have planned but it works for me.  Thank you so much Pat!  

Previously, the hens were in a tool shed and we want the shed for storage.   so we gather much scrap wood, paint and primer.  scrounged up some screws and bought a little plywood and hinges. 

Below:        Run of the chicken tractor.  one can more easily visualize the plan by looking at last photos.  the runners are 1x4's.  the wood under the coop is 2x4's and the rest is 1x2'.  Thinner boards makes it lighter and anything thicker would be excessive in this application.

 Below:  House is made according to plan above.  the plywood panels were fit together using 90 degree braces.  an internal wood frame would take up much space.  seams were filled with PL polyurethane.  it is lightweight and solid as a rock.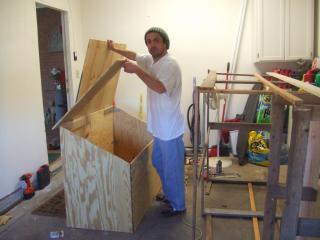 Below:  Nest box is added to outside.  benefits are easy egg removal and more roost space in house.   Different placement of the egg box would be in the front middle but this works fine.  I have the roost diagonally longwise (they only sleep in coup and as long as they're happy, i'm happy).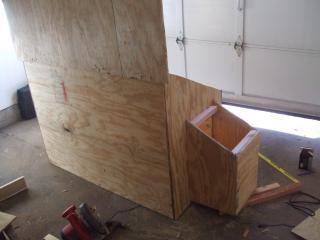 Below:  Run of tactor is assembled.  lots of filling, priming, sanding, filling, priming sanding, filling, priming .... before following picture.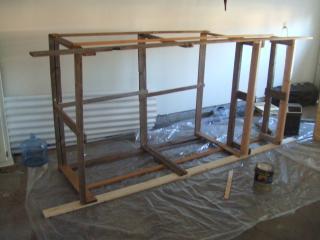 1st Coat Primer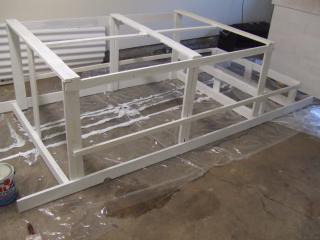 Primed 2nd coat

 Run is painted white and coop is painted tan with blue trim.  the window and door paneling were fit using "wavey" nails. 

Chicken wire was stretched and stapled to the run area.  a door was easily fitted to the top.  one might want a side opening door but mine is on top so the hens can egress but our dogs can't.  
PalRuf was nailed on the roof.  roof is hinged for cleaning.   i've put 1"x1" boards on the underside of the roof's panel.  this stops any breeze in extreme cold weather. 

Done: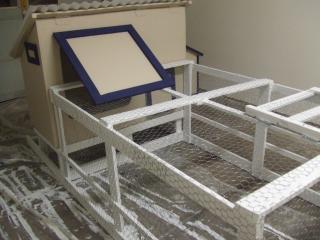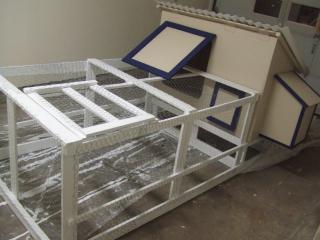 1"x4" screen covers the large vent window and side window. i've put in 4"x4" screen below the coop to keep predators out.  i've spread wood chips over this so the hens don't notice it. 

I will affix two wheels from a lawn fertilizer to the side with the coop.  this will allow easy and quick portage over rough terrain.  the axle and bearing housings are in place.  just waiting to find a pair of wheels for under $10. 
Below:  This chicken tractor has been in use for about two months.  i'm happy w/ it for our three hens.  If i build a larger one, i'll use the same design, but the coop will be shorter.  i'd leave the door on top of the run and egg box where it is.  others may want different.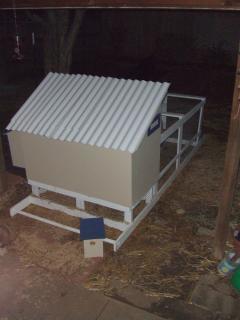 the leftover plywood and paint provided a nice bluebird house.  My next project is barely visible in back.  a Koi Pond w/ pump house.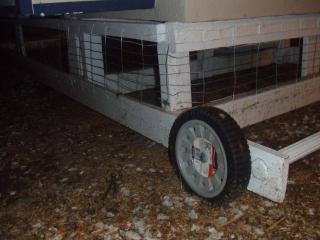 I've added two 8" wheels to the side with the coop; a handle on the other side; plus two metal hook latches to keep the coop from falling off the tractor when i pick it up and move it.  It moves very easily. 

 PM me with questions.  This was very easy to make.  It housed three standard chickens that were let free daily.  the door placed ontop of the run allows me to slip in if needed and the chickens can pop in and out but our dogs can't.  we have sold our bantams and have started up a small group of silkie bantams.