Welcome to my page. I now have a blog: www.catscritters.blogspot.com
I have 2 adult standards and 6 chicks hatched September 4/5th , 4 juvenile standards (1 pullet and 3 roosters), and a bantam hen.
The Flock
A Black Australorp/Easter Egger Cross who is 4 years old (5/4/09 incubator). She is the hen raising the 6 chicks, 5 of them hers and the other one is the CM's hen who recently died .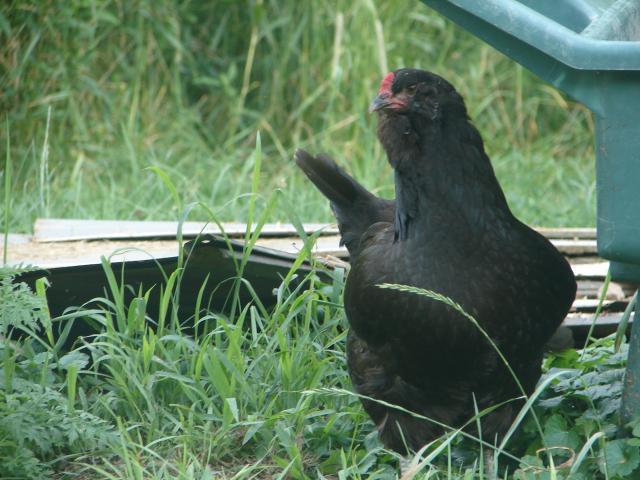 Red my main flock rooster an Easter Egger, 4 years old (5/4/09 incubator). Pictured with a WL/EE hen(who has since passed):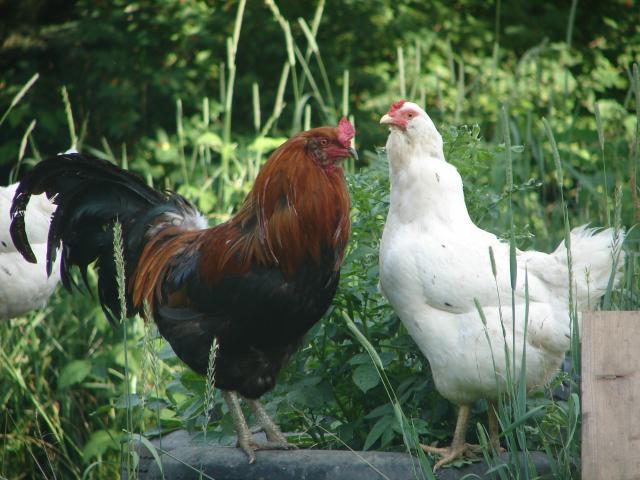 The newer part of the Flock
This flock was given to me by a women whose daughter had lost interest in them on 7/2/13.
First the oldest hen about a year old and is a mixed breed bantam with possibly cochin in her. She was part of a school hatch:
Then there is one little Brown Leghorn pullet bought in Feb. 2013 from a TSC store:
And then there is 3 little roosters who are also Brown Leghorns and bought at the same time as the little girl. I'm going to try to give away these guys so if you might be interested let me know!:
I also have 3 cats (2 are dumpies), a goldfish, Nick the family dog(a beagle), and a guinea pig. I'm also a reading addict, so if you want to talk books I'm your girl and I garden.
RIP: Freddy(BR), Easter(EE), my 7 babies, little Yellow Legs(WL/EE), little #11(BR/EE), Baby(also know as Lone Ranger, EE), 2 unnamed winter losses, Spectacle(EE), KD(EE), Big Mama(EE), Betty(WL) , Black and Grey BA/EE, 3 unnamed lost 7/9, Romeo(BR) , Barred bird(BR/EE),Baby Broody (EE) , Torn-Up(EE), Grey(EE), Vanna (WL), Fred(RIR), Juliet(BR), Romeo's daughters 2 EE/BR, Caramel(WL/EE) and a BA, a black and red BA/EE, Dolly(BR) ,  a CM,  another CM 3/22, Chipmunk(EE), 2 CMs, a BA , Clean faced WL/EE,  Kernel(WL/EE), the muffed WL/EE, bantam Buff cochin, bantam black mottled cochin, bantam white cochin, the little Brown Leghorn pullet, the littlest Brown leghorn rooster, the BA/EE's two babies (chipmunk and black), the BA/EE's chick with the deformed foot, and my beautiful CM hen who was the last of my original order.
And Goodbye to my Roosters who went to new homes: Edward (CM/EE) and the 3 EE/BR brothers.