Chickens on the Hill
Our little 10 acres of land is known as Hendricks Hill. It's full of different animals from deer to ild turkeys. Then there are unwanted animals such as fox, coyotes, bears, and bobcats. Then, we have what we are known for, our chickens.
It all started in 2008. My Grampie and I ordered 15 chickens from McMurray Hatchery. 4 red stars, 4 black stars, 2 buff orpingtons, 2 white orpingtons, and 2 white orp roos. I also ordered my roo Henry, a Partridge Cochin. He was a big baby. He wouldn't even leave the coop when the herns dd to free range or would run from my 2 y/o broter getting the eggs. Henry was a very ugly roster who never grew his tale feathers completely in but had the nicest saddles and foot feathering. Henry also was always getting double teamed by the Orp Brothers. Not only was henry unhappy, but the smaller Buff hen was getting beat by all 4 red stars. My Grampie then hatched chicks in 2010. 18 hatched, all roo's but 5. I kept 3 roos and all 5 hens. I also took the buff hen named Goldi and Henry. So now 4 roos and 5 hens.
On October 3, 2010, there was a talegate sale at a local fairgraond in New York. I went, bough my all time favorite roo, Chief, his 2 hens Lacey and Macey, along with Pineapple and a roo named Indian.
In late March I took my rooster to the auction. I kept Henry and Chief along with all the hens. While I was there I seen Buff Silkies that I new I had to buy. I figured $15 for the pair. They sold for $45 a piece. While at this time I didn't know there was a difference in show quality and hatchery stock. I went and bought 15 buff silkies and 10 buff brahmas from McMurray. i recieved them in June 2011. I had 5 light and 5 buff brahmas. 3 hens and 2 roos in each color. I sold 1 roo in each color and a buff hen died. So I had 7.
This past March I traded 5 chicks for 3 Splash Cochins from Java Girl 2. I hatched them with an incubator and I also tried to hatch a dozen of hatching eggs I purchased for $30 from wwmicasa1 in California. I had 1 chick hatch from these eggs. I named him George, a lemon Blue Cochin.
April 21, I hatched out  18 chicks from 25 eggs in an incubator. A day later, Lacey hatched 8 chicks out of 9 eggs. WOW!! Of all these chicks that hatched only 2 died. One from being so small that hatched in the incubator and the other got stepped on by Lacey accidently.
It was May 3, 2012. I had all my chickens out free ranging. I had to take my sister to ballet practice. We were gne 1 hour. I got a call from my mom saying a fox was after my chickens. It was huge. The tried to catch the chickens but couldn't find them all. I had to ait for my sister to finish practice then we rushed home. We got there. I found them all alive but 2, Henry and my Light Brahma roo. I figured henry would have been fine b/c he wouldn't leave the coop. It looks like when he was really needed he did as all rooster must do. Protect there flock. Goldi, his bud. Got it bad. Her whole back was skinless and she was bleeding everywhere. I sprayed her with blue kote and she is doing great to this day.
I am happy for the hatch on April 21. I got a new roo for my Light Brahmas and Henry's son. A Cochin Orpington cross. I also got many more from this hatch for my breeding pens in 201
It's finally May 10 and I'm so excited because I bought 2 Lemon Blue Cochin hens, a pair of Aztec Gold Cochins, and a Mille Fleur Cochin cockerel all from wwmicasa1. But now to find out George is really a hen. I have got to order a roo from her in the fall.
The fox is dead to this day as far as I know because we have guinea hens that our neighbor loves and I lost one. My neighbor found out and last I saw the fox it take off over the hill to his yard just to hear to shots of a 22. caliber rifle. It was the biggest fox I've ever seen. When the killing of Henry took place it was 2:00 in the afternoon.
Goldi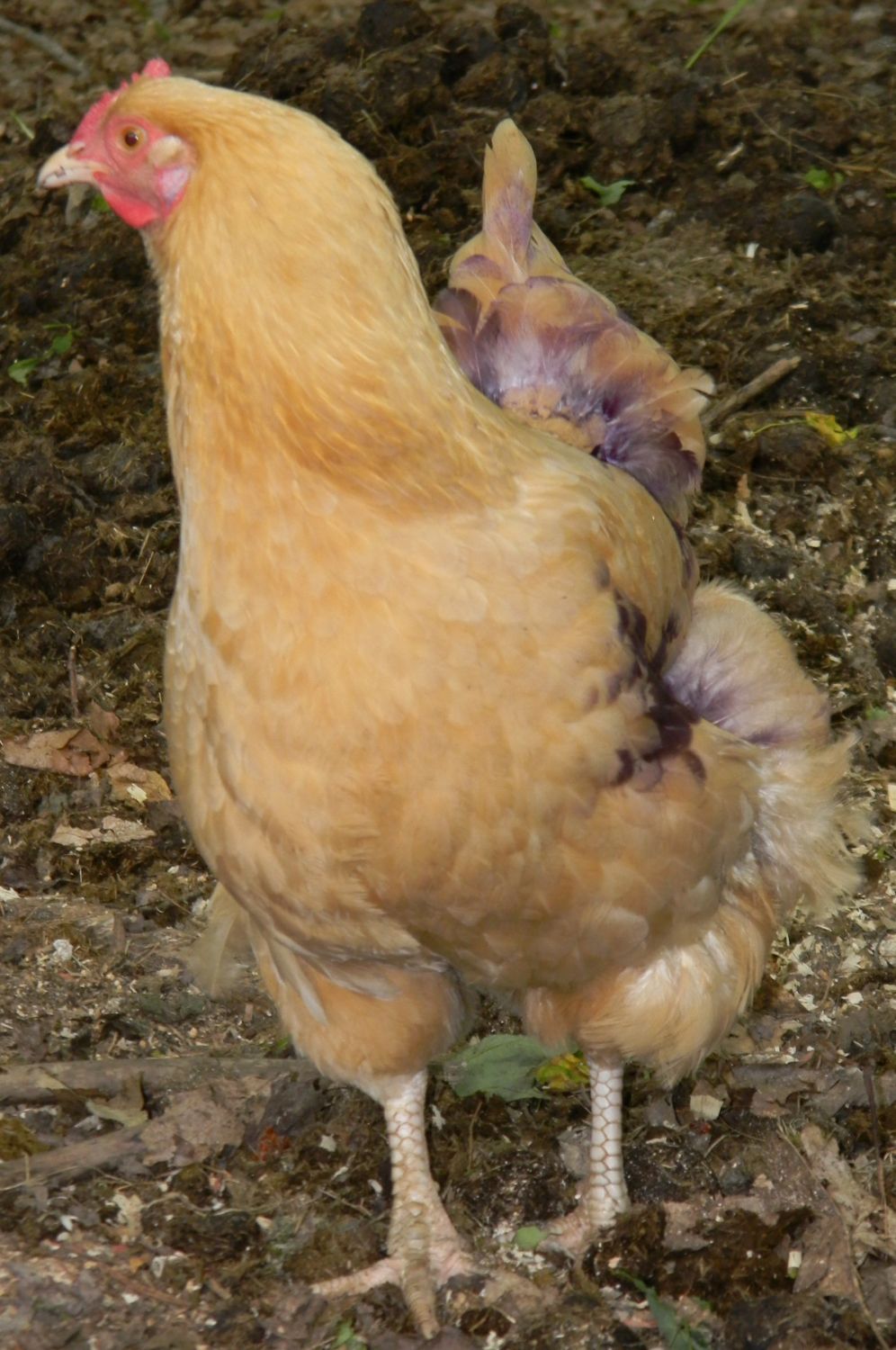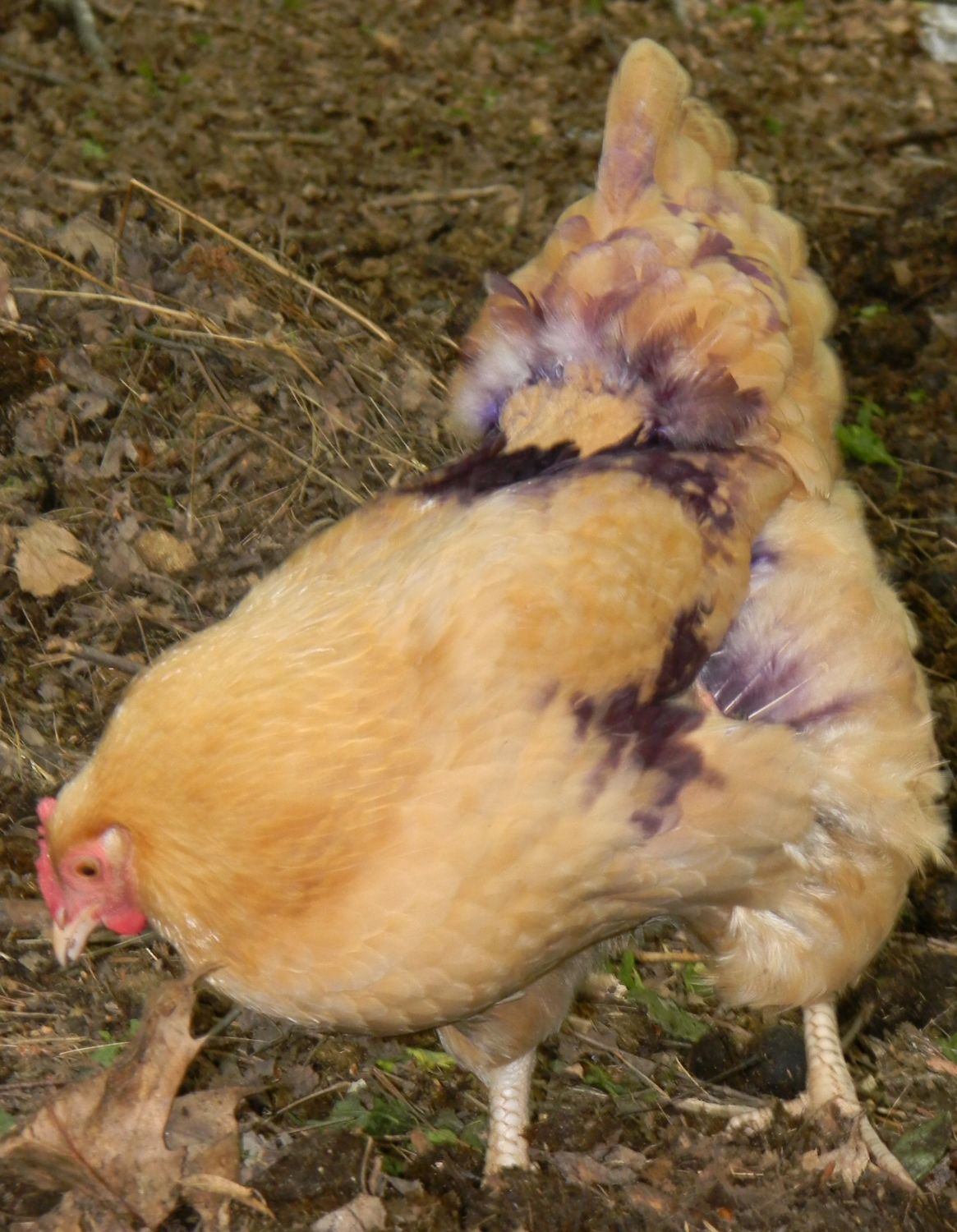 Cochin Bantam Roosters:
Mottled Cochin Dudley
Splash Cochin Blueberry
Gloden Laced Cochin Chief
Mille Fleur Cochin Remington
Cochin Bantam Hens:
Gloden Laced Cochin Lacey
Golden Laced Cochin Macey
Golden Laced Cochin Chess (first chick I hatched under a hen/ Macy)
Splash Cochin Awinita
Splash Cochin Ayasha
Cochin Chicks- 2013 Breeders:
Golden Laced Hens
Dudley and Chess's son
Dudley and Chess's daughter
Cochin Standard Cockerel and Pullets:
Aztec Gold Cochin Standard Bruce
Aztec Gold Cochin Pullet Lynne
Lemon Blue Splash Cochin Pullet
Lemon Blue Splash Cochin Pullet
Lemon Blue Splash Cochin Pullet George
Brahma Bantams:
Buff Brahma Rudy
Buff Brahma Hen Katie
Buff Brahma Hen Tiny Tina
Light Brahma Hen Brahmy
Light brahma Hen Micky
Light Brahma Hen Spec
2013 Light Brahma Breeding Roo
Buff Silkies (Missing Photos of 3):
Buff Silkie Roo Rasberry
Buff Bearded Silkie Hen Shortie and chick she hatched 5/25/12