Crow - Chicken Pests - How To Protect Your Chickens From Crows
Crow
General Information and Description
Crows are scavenger birds of the genus Corvus in the Corvidea family, which also include magpies, ravens, and about 120 other species. Technically called corvids, they are considered one of the most intelligent animals. They have a brain about the size of a chimp. In mirror tests, crows exhibited self-awareness and tool-making ability common only in humans and a few mammals. Recent studies even suggest that crows can recognize humans by face. These birds are most often seen in temperate climes.
Range
Crows thrive in pairs, and are territorial. Their main mode of attack is vulture-like in nature. Unlike hawks that carry away hens, crows are known to attack prey in droves. As opportunistic feeders, they often just hover around an area, waiting for their prey to die.
Crows seldom bother adult chickens that can defend themselves. They favor young hens, growers, chicks, and eggs. It is common for crows to perch themselves on rooftops and electric poles overlooking poultry farms and learn the routine movement of your fowl. At the right time, they invade chicken coops to kill chicks and growers, and cart away eggs. This can reach up to a dozen or more depending on the flock of crows that invade your poultry farm. A successful attack will prompt them to return again and again. They usually make a pest of themselves during the months of May and June.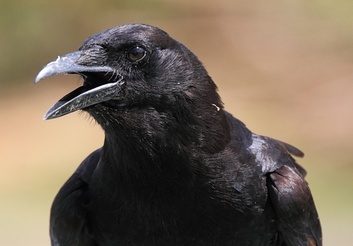 Methods of Kill
Said to have the intelligence of a 2-year-old, crows have been known to "think" or strategize when observing their prey. And when they attack, they have been observed to do so in solitude with others following behind. They may also attack in pairs or packs while making their signature noises. A few species of crows, the New Caledonian Crows, are known to use their claws and thick pointy beaks to forge tools in sourcing their foods.  They can pluck and bend grass stems and twigs and effectively fashion "knives" from stiff leaves and grass stalks. They also prefer to let other animals do the kill and wait for leftovers, which explain their penchant for dropping tough nuts on streets and waiting for speeding cars to crush them.
Prevention & Treatment
The best protection for your chickens is to keep them housed under wire mesh screens or coops, and bring them out only where you're in the chicken pen. They rarely attack when there is a human present. You may also have heard about using "scarecrows." While crows eventually become accustomed to them, you can extend their life by attaching a small transistor radio. Some discussions on scarecrows can be found here.
In America, you can shoot crows from August to March without legal ramifications. Outside of this season, you need a license. However, no permit is necessary to kill these birds when they are found attacking livestock, agricultural crops, ornamental trees or protected wildlife. But because they are known to drive away the more sinister and damaging hawks, poultry farm owners generally prefer not to kill them unless severe loss in eggs, chicks and growers are experienced, in which case a hunting rifle comes in handy.
BACK to Predators