DMRippy's Member Page
Welcome to my BREEDS Page
Breeding pen with hatching eggs available: If you see something you want just PM me and I will let you know what is available.
Blue/Black Copper Marans Pen - Blue Copper Marans Roo (Pinkchick's) with 14 Black Copper Pullets/2 Hens
Sex Linked Copper Marans - Black Copper Marans Roos over 4 Blue Cuckoo Hens.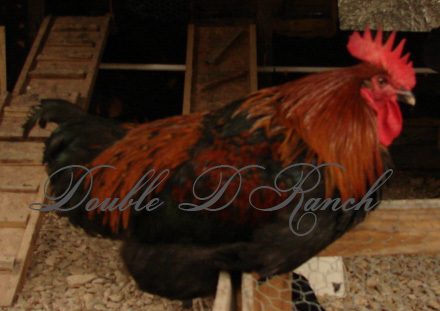 Barred Rock Pen - Good Shepard Barred Rock Roo with Blue Barred Pullets and Hens 50/50 Blue and Black Barred Rocks.
He I MUCH Bigger Now
2nd Generation Blue Barred Pullets
Lav Pen 1 - Lavender Ameraucana Roo (Shaffer)  with 1 Lavender Pullet (Shaffer) and 4 Lavender Splits and 1-3 Lavender Pullet
GNH Pen - 3 GNH Pullets covered by a Reg NH roo ..... starting over.... maybe next spring
Cuckoo and Blue Cuckoo pen - Cuckoo Roo (feathered legs) x 5 Blue Cuckoo Pullets (Feathered legs) and 1 Reg Cuckoo Hen (no feathers on the legs)
The Roo is HUGH and so are several Pullets.
Wheaten and Blue Wheaten Ameraucanas  - Blue Wheaten Roo (cpartist) over 2 Wheaten Hens and 3 Wheaten Pullets
Super Blue Egg Layers - Leghorn x Lavender Ameraucanas * EGGS AVAILABLE ALL THE TIME* My goal is beards and muffs, huge eggs ( I have already gotten several double yolkers) and Blue Eggs and LOTS of them!   The pullets pictured started laying at about 20 weeks and came from my EE Roo.  I have 6 with my Lavender AM roo.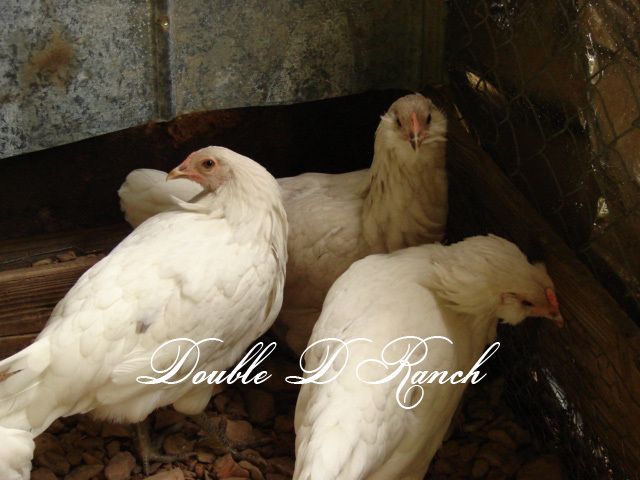 Exchequer Leghorn Egg Improvement - Roo is gone, may get another down the road.  This was a project for someone else.  I will have a few chicks growing out and may get another roo next spring.
White Leghorns - A trio
Chocolate Orpingtons Anyone?  Jerry Foley sent me home with a chick and I have a black Eng Orp pullet with him that just started laying
Silver Penciled Wyadotte Bantams - Quad From Jerry Foley 
They are older now and laying regularly
Just to clarify..... the SLW and BLRW were purchased from Jerry Foley and were HIS Breeding Pairs he mated these birds up, not me
These Birds are DIRECT From Jerry Foley and not a cross breed from 2 or 3 generations back.
SLW from Jerry Foley own Breeding Flock - laying now.  ONLY one hen.  I have 2 pullets growing up  Now Laying (also Foley and Pauls Poultry's) and a younger pullet (from Foley too) These will not be available until Spring 2013 - keep an eye out for auctions.
BLRW SQ Breeder Roo and 4 Hens from Foley's own Breeding Flock they are molting and not laying well but soon.  When I bought these he told me this roo and one of the hens gave him his first really good BLRW start and made a big leap in his breeding pen.  These will not be available till Spring 2013 - keep an eye out for auctions.
Blue and Black Plymouth Rocks  Still looking for a roo
having to work backwards on these 
Several other projects and new breeds coming in the spring.  New chicks comeing from Paul Smith in the spring Blue Wheatens, Blacks and Lavender Ams.  All hatching eggs coming for Partridge Rocks, SP Rocks, SFH in the Bator due in a few days, CCL growing out and more to hatch, Tolbunts and Frizzle Tolbunts and more I am sure I forgot.