Inserting Pics in on the New BYC
Pictures are a huge part of BYC and we've worked hard to provide unlimited storage space for you to upload and share your images.
Below are instructions on various ways to insert images into your posts. 
Here is a video that goes through the albums and process up loading pictures into your posts.  One note:  In the video we offered one way to load existing images is to copy and paste them.  This method has been proven to be a big buggy, so we actually now advise against it.  We'll be updating the video in the next few weeks as we make changes to our upload process.  To learn a little more about this bug, see this thread.
How To Post a Picture Onto The Forum- Standard Way:
Click the little icon at the top of the post a reply box:
This window will pop up. Click "browse":
Click the image you wish to upload and then click "open":
Now click "submit":
 Now your image should show up in your message:
OR
Click the little icon at the top of the post a reply box:
This window will pop up. Click "Image URL" tab and then paste the URL of the picture into the "Import Url" box:
Instructions on finding an image URL will follow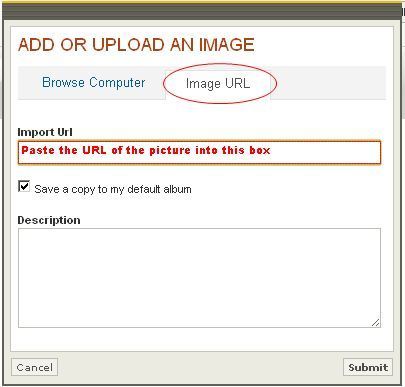 Now click "submit":
Now your image should show up in your message:
How to Grab an Image URL:
Pictures on the internet have an address called a URL.
In order to grab or "capture" the picture you will use these steps:
Open the web page that the pic is on in another tab or window of your browser.

Right click on the photo that you want to upload to BYC

Select "View image info" and click on it.  Another window will open with only the pic showing.  copy the entire URL for the pic.  Example:  http://a2.sphotos.ak.fbcdn.net/hphotos-ak-snc6/261577_1419773591281_1740920809_663009_3889308_n.jpg

Or depending on your browser you can skip step 3 and instead select "Copy image URL"

After you have copied the URL then you can paste it where you need it on BYC.
How to Post Already Uploaded Pictures onto the Forum:
Click "My Profile" at the top of this page:
Now, scroll (almost) all of the way down until you find your albums. Click "Uploads":
Next, click the image you wish to include in your post:
Copy your photo. (Right click your photo and left click "copy" on the drop down menu):
 Paste your photo into the reply box, (Right click anywhere on the reply box and left click "paste" on the drop down menu):

Click "allow access":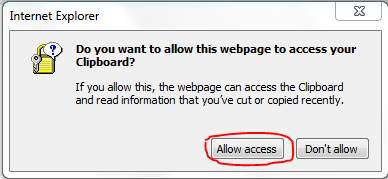 Your image will now load into your post:

Inserting pics using Photobucket (or other image hosting sites):
When using Photobucket, follow the directions above for adding image URL
Go to Photobuck and copy the "Direct Link"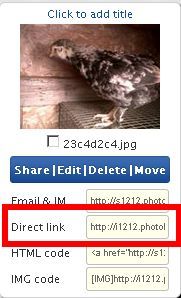 Then come back here and paste into the upload box.  
You can paste easily by using the Ctrl and V buttons on your keyboard at the same time.
Inserting pics using your Facebook albums (or pics from your own website):
Follow the instruction above for grabbing a URL and using the Upload Image URL box to submit.
Or in some browsers you can use copy / paste (please note that this option isn't available for all users):
You can also copy / paste if your pics are say in your FB album.
Just go there and right click the pic and choose "Copy Image"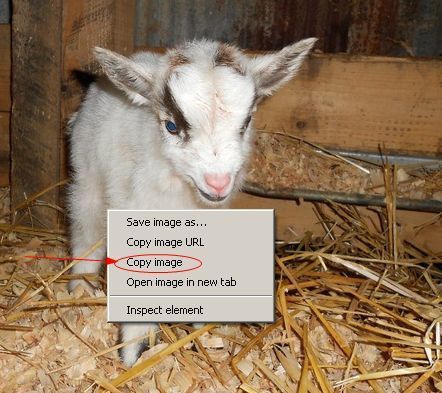 Come back here to the Reply editor and hit the  Ctrl and  V keys on your keyboard (at the same time)
And your pic is here!
Using BB Code to insert your image:
First you must change your editor to the BB Code Editor.
To set your editor to BB Code:
First choose Preferences at the top or bottom of every thread.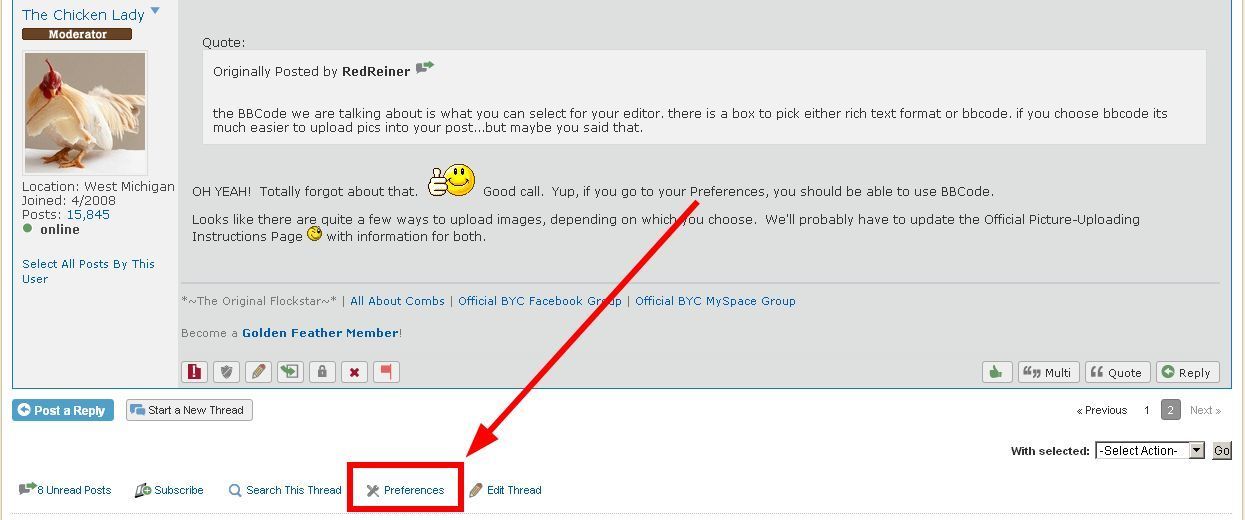 Then the Forum Preferences window will open.
At preferred Editor type choose BB Code Editor.
Hit Submit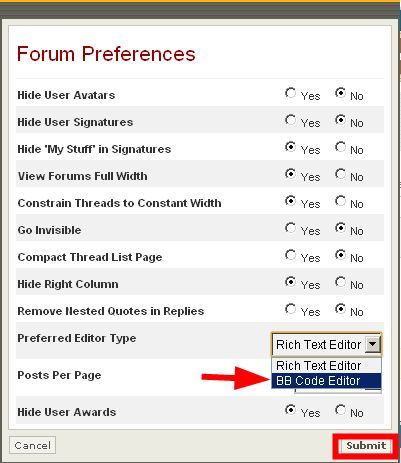 Now you are ready to insert your image using BB Code.
1. Grab an image URL (see instructions for this above)
2. Paste the URL in between image tags  [img] [/img]
3. The code will look like this:  [img]http://www.pic.com/myimage[/img]