Oh, Freema, where to start?
Freema was my girl practically from the start. When she was just a few days old, she began trying to climb up my arm. This soon evolved into her sitting on my hand with the expectation that she would be lifted out of the brooder.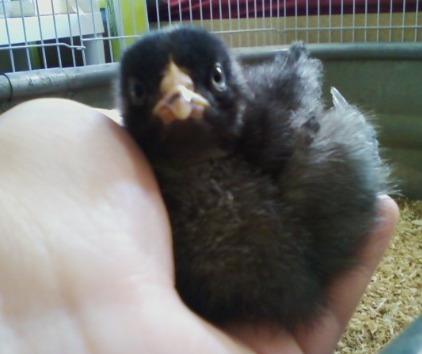 Once the chicks were a few weeks old, I could no longer sit by the brooder before Freema was flying out to sit on my lap. Before long, they were old enough to go outside and, though I feared this would cause a rift between Freema and I, I could not have been more wrong.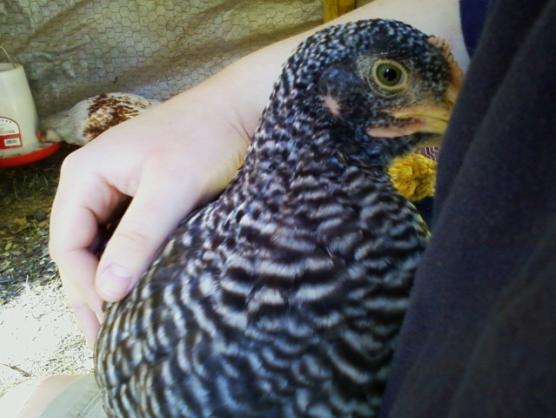 Freema and her broodmates soon outgrew their first outside pen, which had to be extended. We soon found that, with the proper barricading, our net house worked perfectly for the job--plus it was big enough to keep a chair in! I was out with these girls almost every day from then on out, and Freema was always there on my lap when given the chance.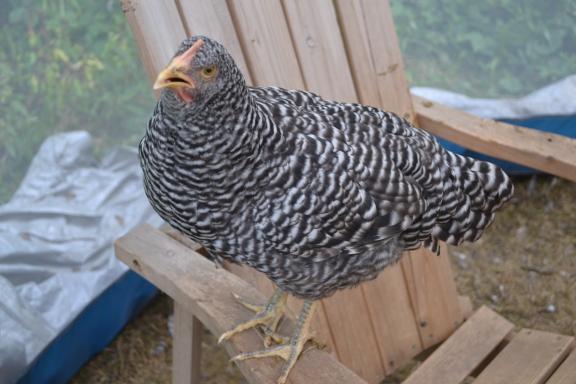 Alas, even the net house was outgrown in due time, and so it was decided that Freema and her broodmates would be introduced to the main flock. They were about four months old.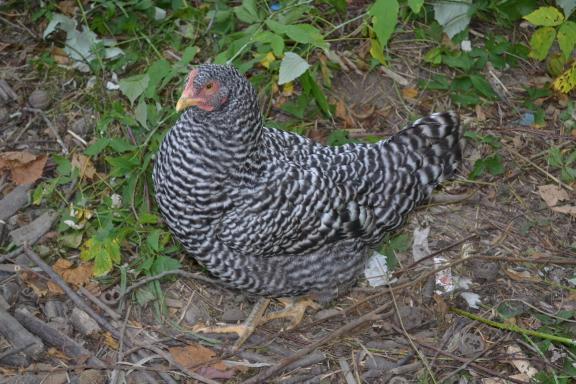 It was around this time when Freema learned her favorite trick. She discovered that if she ran up to me and tugged at my pant legs, I would crouch for her to sit on my lap. (Oh yes, I allowed myself to be trained by a chicken. Wouldn't you?) Freema has been my
girl
ever since, and she is the bird that turned me into the crazy chicken lady I am today.
And Freema believes I am her girl, too. Any time another bird is getting my attention, Freema must run over and give me a look of, 'How DARE you?!' She then procedes to mutter under her breath, all the while pulling grumpily at my pant legs. When I put the other bird down, watch out! Freema punishes them, too, for daring to find themselves in my arms! Sometimes, Freema's just so silly.
Freema is an incredible bird and thanks to her and her sisters, I will never go without a Plymouth Rock in my flock for more than the time it takes for me to order and receive chicks. I cannot say enough good for this breed, and especially for the little barred rock that loves me as much as I do her--at least she sure likes to make me think so!
Love you, girl!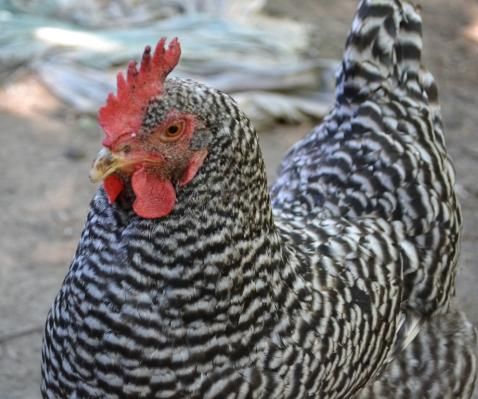 To sum it up...
name:
Freema
sex:
female
age:
2 years old (born May 11, 2011)
breed:
Barred Plymouth Rock
egg color:
Tan with a light speckling of brown
Thanks for reading!