Kristin's Chickens: Generation 7
Generation 7, otherwise known as the Fab Five, came as a surprise to me. One day, my mom told me that she had ordered some chicks from Meyer Hatchery and that if I had any requests or changes in mind for the order, I should go look at their website.
She had ordered two Partridge Plymouth Rocks, two speckled Sussex, and the last remaining blue splash Marans, all sexed pullets. I had many ideas in mind but, knowing my limitations (especially in coop size), I refrained from adding anything to the order.
We drove over to pick the chicks up, fearing for them if they were shipped. This was a long drive, but so worth it to know the babies all arrived home safe and sound!
Now they've grown and become true members of my flock. For more pictures as they grew up, check out
this thread
.
Frou-Frou is my beloved Big Fuzzy bird. As a chick, she was known as Sassy Marans, though she grew up out of sassiness and quickly became my big sweetheart.
Frou-Frou has been such a darling that she's earned herself her own page. So if you'd like to read about the Frou-Frou bird, check out this page:
Fancy and her sister, the Partridge Plymouth Rocks, were two that I had high expectations for. Our past experiences with Plymouth Rocks was outstanding, and so I was looking forward to seeing how these two worked out. Fancy lived up to many of my expectations when she was a chick. She often would climb up onto my hand and sleep there while I surfed around the internet. She was personable and came running when she saw that I was there to serve as a perch for her.
When Fancy was a chick, she was called Little Miss Lungs. Why? Because the entire drive home, she peeped and peeped and peeped. She was a little diva back then, too!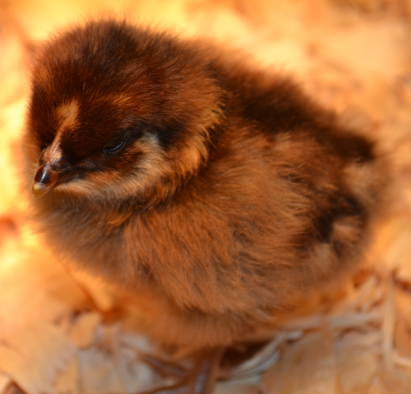 Fancy had a leg band because it was the only way I could tell her apart from her sister. Of course, she was very picky about the color she would wear. For instance, when she was three weeks old, orange was all the rage!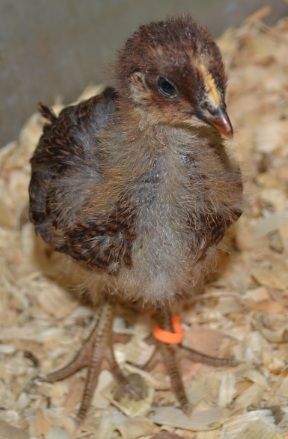 By the time she was six weeks old, it was wear blue or just go home!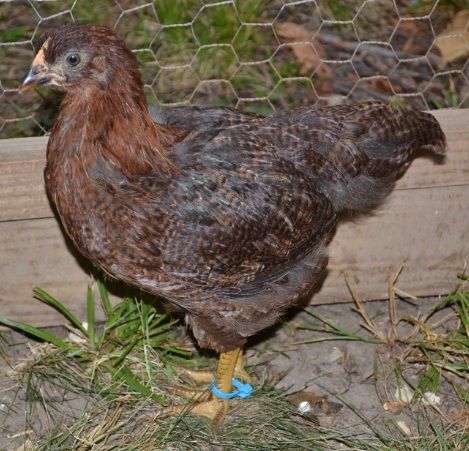 At two months old, of course, yellow was the only thing fashionable!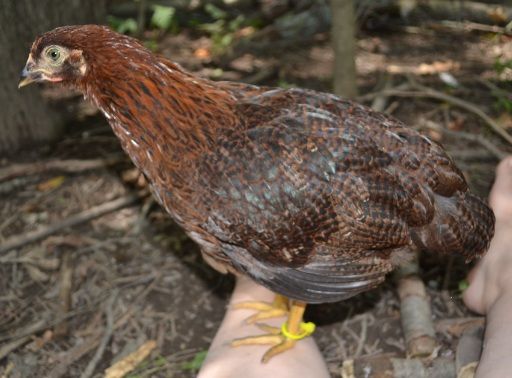 The leg band soon become unnecessary, and so it was removed. Of course, Fancy had no trouble with that because because who needed a leg band when they looked this good?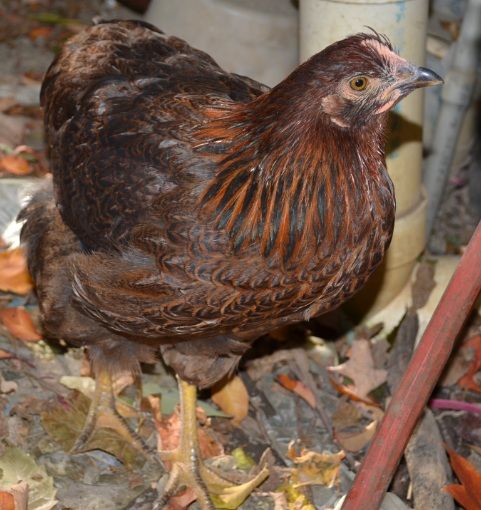 Fancy had the cutest little whistle-voice that I will sincerely miss hearing. I loved listening to her chatter quietly with that sweet, musical voice of her's!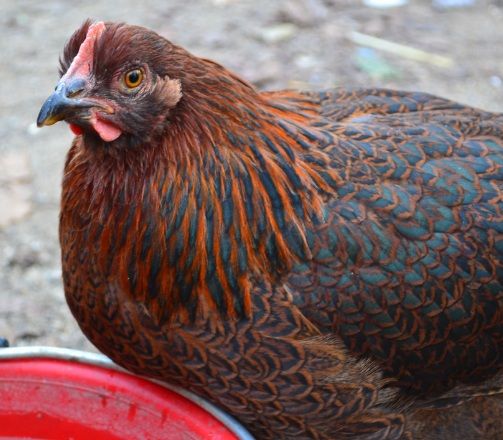 Fancy has been talking lately like she may lay an egg soon! We'll just have to see what comes of this!
She did it!! On January 16, 2013, Fancy laid her first egg! (She looks so enthusiastic about it, too!
)
She Who Sleeps Standing Up
She Who Sleeps Standing Up, frequently shortened to She Who (mainly so that I can say things like She Who lays pretty eggs), was given that name because of her tendency to stand while sleeping when she was younger. She has always been a bit on the shy side.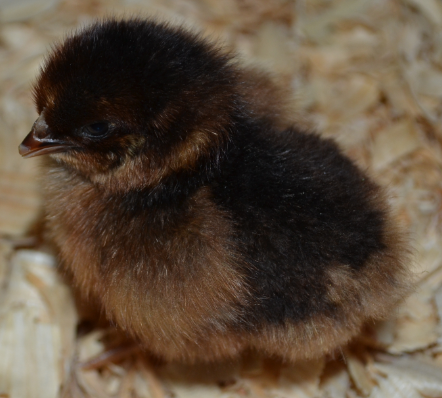 She Who went through a brief phase when she was friendly. Then, for a long time I couldn't even touch her.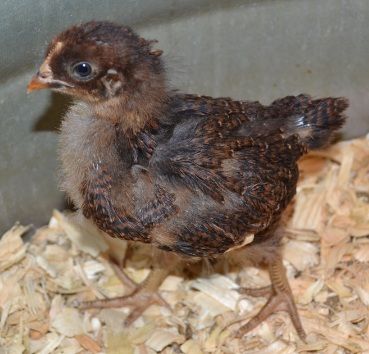 When She Who began to squat, this allowed me to pick her up more often. She got her revenge by tearing holes in my shirts if I wasn't careful. (That innocent look can no longer be used on me!)
She Who laid her first egg on January 8, 2013!! Here she is, looking pretty in the snow on that day:
She Who is super pretty, arguably as pretty as her 'twin' sister, Fancy! (Just don't say that too loudly out in the chicken yard!)
Pogonip, otherwise known as Poggy, is the graceful adventurer! She is a speckled Sussex, and she has always been very curious, even as a day-old chick.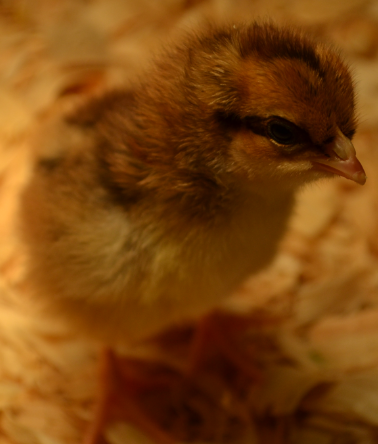 ...Perhaps sometimes she was a little too curious...
Poggy was always doing things that ended up hurting her. She never was hurt too badly, but I would often find her with one eye closed from it getting poked, or limping on one foot from landing funny.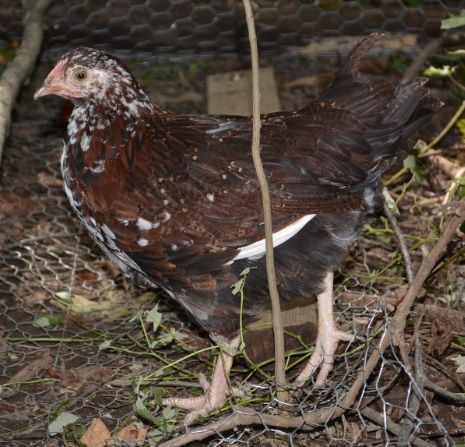 One day, Poggy decided to grow! She got all stretched out and tall, and she's been the tallest bird of the five since!
Poggy has begun to lay, but she did it on the sly, so I'm not sure exactly when she began. Oh, well, she's still a pretty henny!
Iddy Biddy, or Biddy-Bird, the speckled Sussex has had her name from day one. Biddy-bird was very weak after the car ride home and slept almost her entire first day with us. It reached a point where I didn't think she would make it through the night.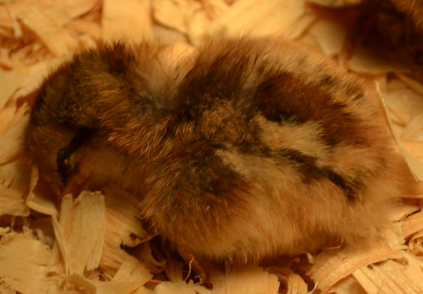 Luckily, she proved me wrong, and boy did she bounce back! Since then, though, she was always smaller and her feathers came in much more slowly.
Here she is at 6 weeks old, next to Fancy, who grew normally:
When she was little, Biddy's outer toes curled. She clearly was not the picture of genetic health.
She was, however, a little cutie and so full of personality! Biddy-bird was widely recognized as the little genius of the brood because she always figured things out first.
Biddy-bird was the first to squat and the first to lay an egg out of these five little ladies. Pretty good for a youngster that almost didn't survive her first night!
Biddy-bird definitely isn't the best example of a speckled Sussex, but I wouldn't trade her for anything! There's something about this bird that you just can't help but love!
To sum it up...
names:
Fancy and She Who Sleeps Standing Up
sex:
female
age:
11 months old (born June 11, 2012)
breed:
Partridge Plymouth Rock
egg color:
She Who lays a little pinkish-brown egg. Fancy's egg is less pinkish and more tan-ish than her sister's.
names:
Pogonip and Iddy-Biddy
sex:
female
age:
11 months old (born June 11, 2012)
breed:
Speckled Sussex
egg color:
Poggy lays little brown eggs that are very pointed, and Biddy lays a cute little round brown egg.
Thanks for reading!