Frühlingskabine Deluxe Chicken Ark
Our family blog: www.fmicrofarm.com
Our chickens needed a bigger and better chicken coop and after searching the Internet, I have come up with this blown up version of the one-sided chicken ark. Our budget is $300 because honestly, who wants to spend more than that on chickens? Follow along and if you have any questions feel free to ask.

The finished product should be a 8' x 4' coop with an attached 8' x 9' run for a total of 8' x 13'. It's an odd measurement because the OSB we are using comes in 4' widths and our chicken wire is in 3' widths.

Supply List (so far):
Seventeen 2"x3"x8' pine lumber
Three 2"x4"x16' pine lumber
Six 4'x8'OSB boards
One 30 square foot package of shingles
Tar paper (had already)
Roll of chicken wire (had already)
Gate (had already)
One box of 2 1/2" Grabber screws
One box of 3" Grabber screws
Hinge for back coop door
Magnetic closure for sliding run door
Two keyed Master Locks
Staple gun with staples
Exterior Weatherbeater paint (had already)

Supply subtotal: $210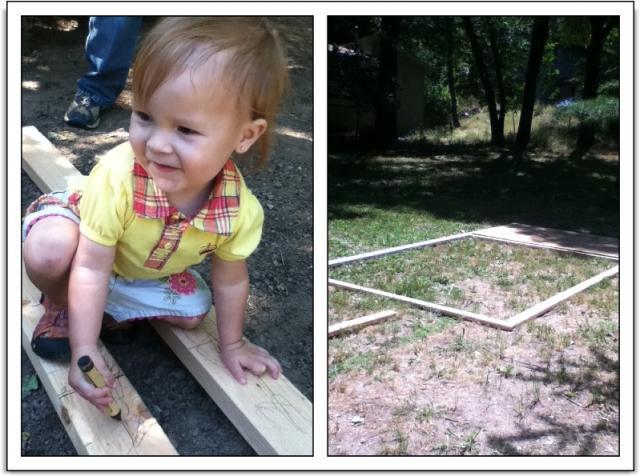 Measure twice, cut once!
Laying out the foundation.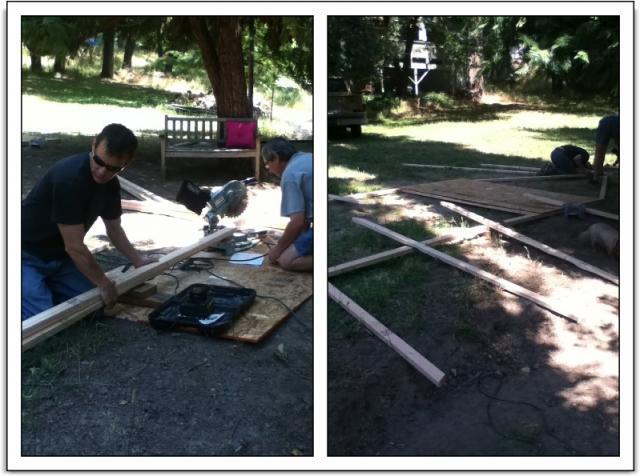 Cutting the proper angles for the ark support beams.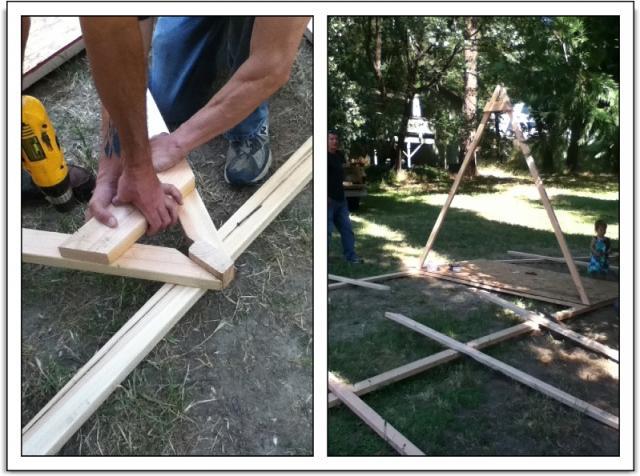 Beams are put together and the first one goes up!



Both coop beams are up as well as the end beam. The two center beams have yet to go up.
The two "roof" sides of the coop are on.



The long center beam is in.
Our daughter with her trusty Phillips.

One more trip to Lowe's for MacGyver-style gate connectors, another pack of shingles, and some vent corners to turn into a self-feeder.
Supply cost subtotal: $70
Coop Cost Total: $280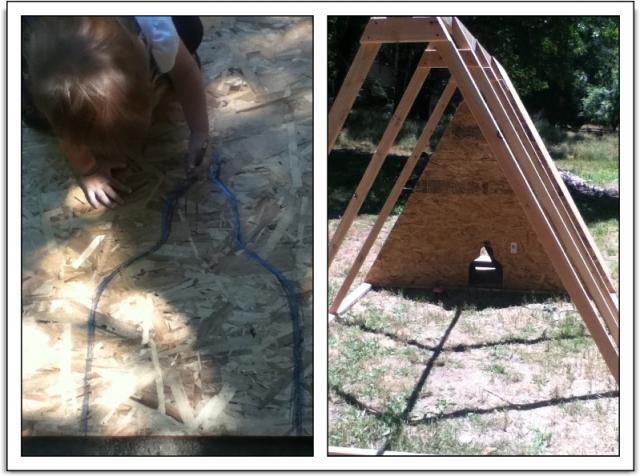 The chicken door to the run is drawn out first...
Then cut and the OSB attached to the front. Mind you, these triangle frontp and back are two pieces: a long 4' tall bottom and a small 20"tall top seamlessly screwed on with a support between the two slanted side walls. All the beam sets are up! OSB board added to the back and the egg collecting/clean-out hatch is cut.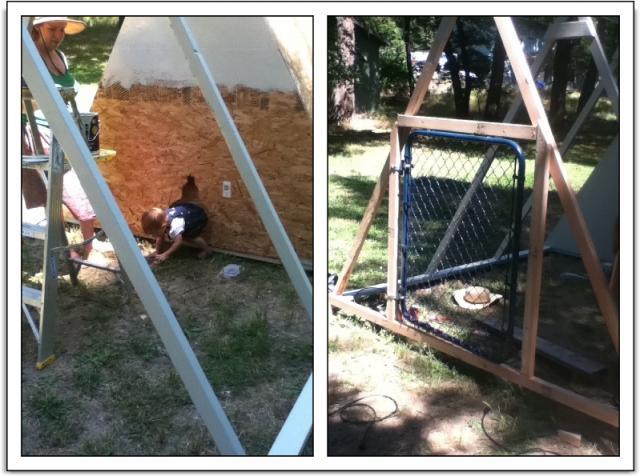 Always have a chicken-sized kid test out the chicken-shaped hole from the coop to the run.
Gate frame and gate intalled.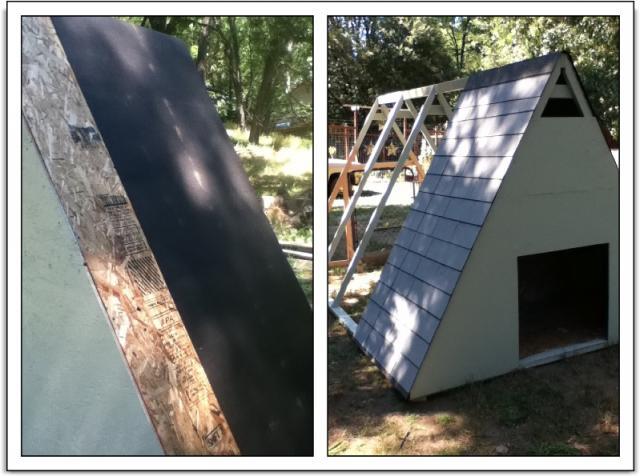 Painted with extra Weatherbeater exterior paint we had on hand.
Shingles being added. It turned out white shingles are the cheapest and matched. Lucky us!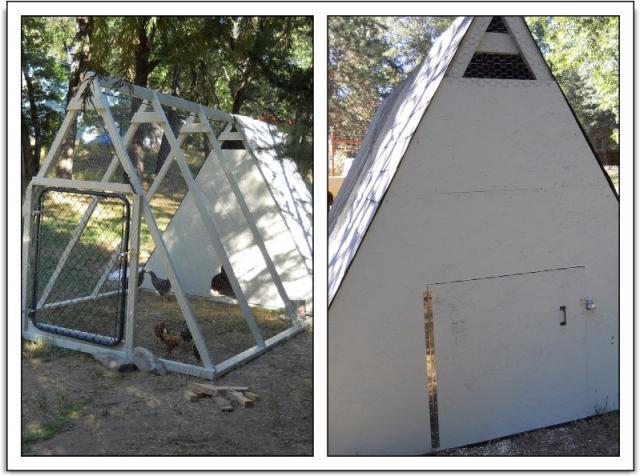 Finished run with gate.
Finished back complete with door and lock.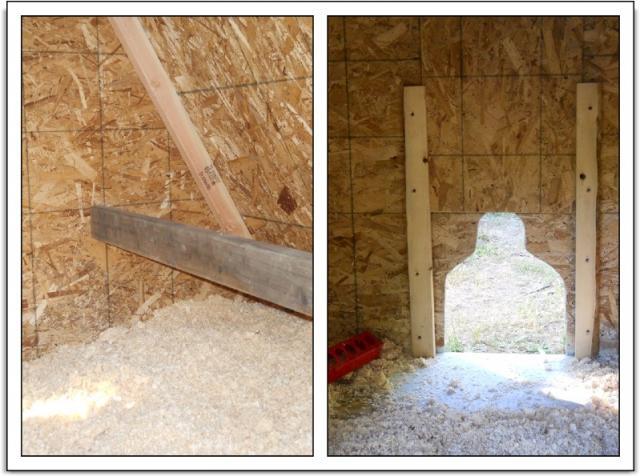 Inside view of the roost going from triangle front to triangle back.
Inside view of the sliding door.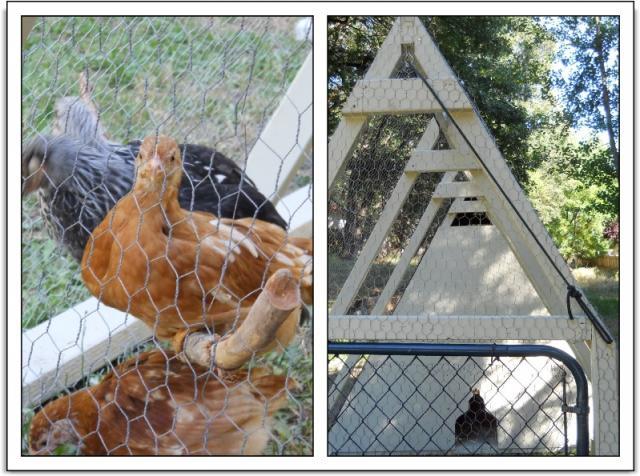 Our younger chickens on their outside roosting branch.
The hen house door pulley system. Just pull the rope to open and hang it on the screw. Let the rope off the screw to close the door.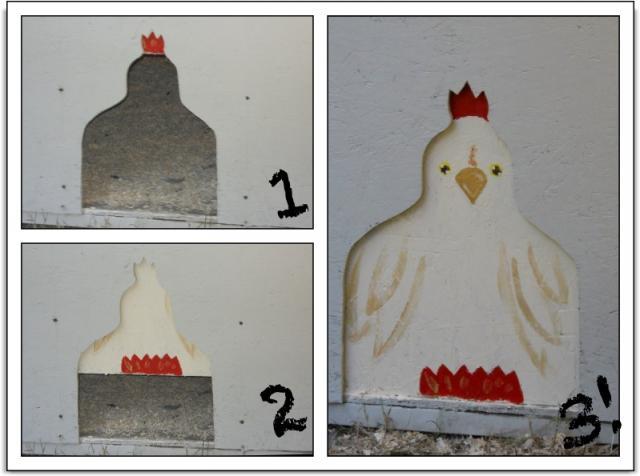 It's as easy as 1, 2, 3! When the door is open you see the red comb. When the door is closed, it reveals a friendly chicken! Ta da!
Facts: This coop took 2 people 3 very full days to build and $280.00
Things I would have changed: I would have made sure the last support for the ark beams on the run side would have faced inward to ease stapling on the chicken wire. I would NOT have used recycled chicken wire (sorry... not a very "green" answer) because it not only stabbed me on multiple accounts, but also because it was very "bubbly" looking and not as flat looking as the piece I used for the front. I also plan to install a self feeder to the outside that goes into the inside of the hen house like a large rabbit feeder so you can fill it from outside. I also plan on installing another roost inside.
Other than those items, I found this design, although much larger than other chicken arks, to be very easy to put together. Very easy. I hope this inpires other "non-carpenters"... good luck with your coops!