Striving for Perfection
Striving for Perfection: A journey from Clueless to Coop Nirvana
This is the story of my first Chicken coop, starting from Febuary 2012. Included are (will be) pictures and plans for the coop that we built (will build).
In the beginning:
Earlier this year, I spotted THE PERFECT HOUSE up for sale in the neighboring town. Old but not run down, 3 bedrooms, a basement, a garage, and just a smidgen over an acre of land. Even better, It's in the agricultural zone in town. I'd already had plans to start a garden in my parent's back yard, but here was a chance to have my own. No pestering them, wasting gas to visit every day. Best of all, I didn't have to take a brush mower up the hill to fight the nasty spiders and thorn bushes that had taken over! The house was just what I needed, and big enough to grow into in a few years when my guy and I tie the knot and think about some minions...or children.
So, I get a new job that will let me afford back yard farming heaven, and begin my research. Vines, bushes, herbs, flowers, pollination and fertilization! Enough to make my head spin. Sounded like a heck of a lot of work, but very rewarding.
And then there were Chickens:
Admittedly, raising chickens wasn't even on the long list of things I wanted to do with the new house. Gardening, however, was on the short list. Lots of gardening. And gardening websites kept telling me that chicken poo is some of the best stuff around for feeding plants. Also, chickens are said to be perfect for insect control, and love to munch on the plants gardeners hate. So I was considering chickens. I mean, who can really say no to fluffy chicks and fresh eggs, yeah? 
So my research turned to the raising of a small flock of chickens. Boy, did it look like a mess. Horror stories of illness, ammonia, and poo. Oh the poo. On the walls and scrubbing wire, and chipping the floor, and then waiting six month for the compost to do its thing in a pile out back. Then I'd have to shovel it on the plants.
But the salvation of my chicken dream was gifted to me by Google. A permaculture website had a subsection about chickens. In it the article literally picks apart every method of raising chickens known to man. After reading the article, and many, many others, I decided that the proposed paddock method would be the best for my new garden. 
The link to the permaculture chicken article: http://www.richsoil.com/raising-chickens.jsp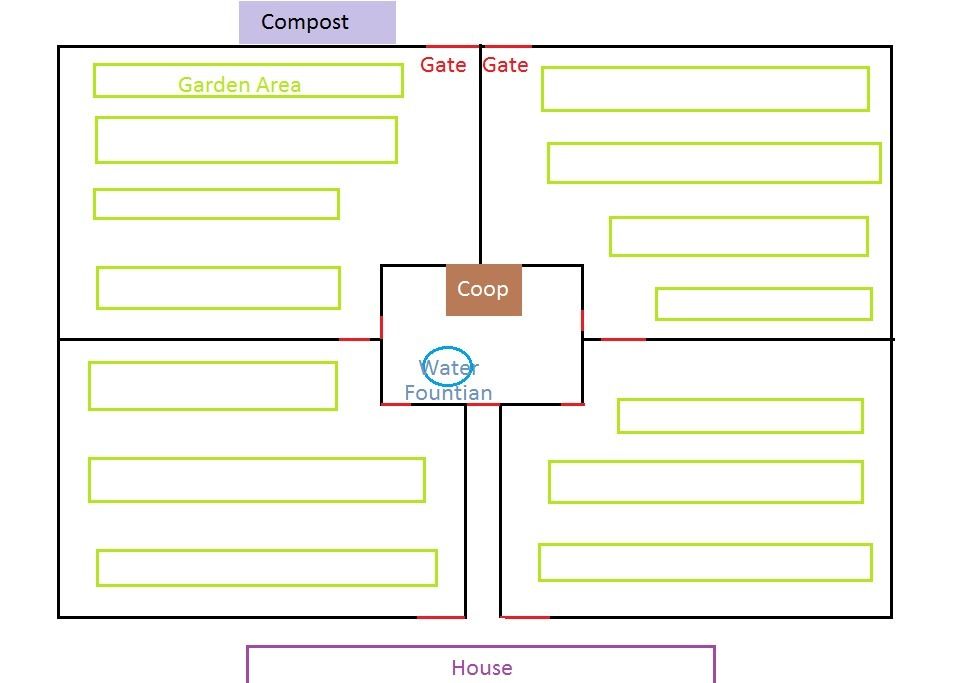 Chicken Scratch Plans:
So, while I waited for my final two weeks at the local Walmart to run dry, I began my planning. Hastily scribbled plans on small bits of receipt paper filled my pockets.
Four paddocks one after the other? But it wouldn't be easy to get them back around to the first.
Portable coops aren't great fun either. Especially considering the mythical chicken math that will turn 4 into 40 in only a year or two, if given the space.
I settled on a four square pattern. More accurately, a five square pattern with the coop in the middle. The coop square will open up into each of the four garden pastures with a gate that can be pinned open. A lane is left open from the house to the coop area so there is no need to go tromping through the garden to let them out in the morning. Extra gates between the sections are for use by people wielding harvest baskets and the wheelbarrow.
We'll see how long this plan lasts.
Coop of Egg-celence:
Now it was time to actually plan the coop. Here, the BYC forums and reference pages have been an invaluable help.
Now, how big? I really only want three or four hens, but this insidious chicken math sounds a little scary if not planned for in advance. The forums tell that the best small flock is about ten hens and a rooster. My boyfriend, by this point, has gotten wind of my chicken plans and sees fresh fried drumsticks in his future. Unable to convince him slaughtering is not a job worth doing, my imaginary flock just doubled. Ideally, I need to fit at least twenty in the coop at night. With my plan of the big chicken garden they have plenty of space to roam so the footprint doesn't need to be huge. But wait, that chicken math again! I need to build something that I can expand nesting and roosting space fairly easily. So I need to fit twenty easily, with room to grow, even if i'm only going to start with five.
My first plan for flooring was to have a tarp under a wire mesh to haul the poo away. After reading about tangled feet, that wasn't really a great option. Tile is less than a dime a dozen most weeks on craigslist, leftovers from local remodels. But then I learned that grout likes to absorb ammonia and poo. Yuck. Linoleum seems the way to go, one big sheet pulled up the walls just a bit with some waterproof calking around the edges. Deep litter sounds like the best idea to use on top of this, but light litter or sand would work to. Ahh, very nice to have some versatility.
Ok, so, nice and big, with room to grow without to much work. Big enough to fit 5 or 6 chickens most of the time, or 15 to 20 when they have access to the garden, before needing to remodel. I want it to be a walk in, so i don't have to go building a bunch of holes in the walls for collecting eggs. So, people sized. 
Google once more to the rescue. They have a very nice CAD sort of program by the name of SketchUp. Free, too. Score.
Each side has the same set up, a 6" ledge to ease egg collection, a row of four 1' square nest boxes with a 2" lip, and then a 1' raised roost pole. The top of the nest boxes will serve as a poop board, with a 2" lip for litter.
But wait, the snow can be killer in New England, and I have no clue how to make a good roof. So, shed style roof with one wall higher than the other, a door, a chicken door, and a few slot-windows covered by chicken wire. 
And why not make it a smidge bigger? that will let me put in more roost space if...when I need it later.
Round 2: 4' x 8'
    So, A similar set up but this time along the back wall. I also added a little ramp, as there wasn't quite enough room for another even sized nesting box.   
As you can see, my skill with SketchUp is improving, and I even found the paint feature!
The Book of Sheds
Out for a stroll through the shops one weekend afternoon, I came across a DIY book of sheds. Wonderful! What is a coop but a chicken shed, really? Everything from how to set a basic foundation, to simple coop - I mean, shed designs. And only $4! Hurray for last year's model!