The Garden Coop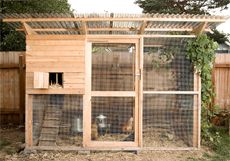 I designed this coop to address all the concerns we had as urban chicken keepers. It's an integrated henhouse/run with lots of ventilation, light, and space (for 8-12 hens). There's a walk-in people door, a large cleanout door for the henhouse emptying right into the run, and an egg door on the front that even kids can reach (see more photos below). And it's completely secure top, bottom, and sides from pests and predators.
You may have seen this design on local coop tours in Portland, Austin, and other cities around the country. The plans I offer are highly detailed and make it easy to build as is or to make it your own -- even if you're a complete beginner. You can see more pictures, preview the plans, and get ideas on how to modify the design at my website, TheGardenCoop.com
Build safe and have fun!
Thanks,
John