Jan 1, 2012
Hello everyone! 
I'm new to the backyard chicken world and can't wait to get started! I have a greenhouse (8'x6') that will be located in the northeast corner of my back yard. It will be constructed as such that I'm going to convert the back 2/3rds as a chicken coop.
 
(not my actual greenhouse, just a pic - it's still in the box - waiting for the hubby to help me build it! LOL)
I am planning on replacing a few of the polycarb panels with wood, so I can create a chicken door and more ventilation.  I will also be lining a couple walls with hay bales to provide for more insulation.  The corner of the neighbor's yard has a huge shade tree, so it will be shaded. I'm not too worried about overheating. I'm also planning on adding a tarp on the inside to provide a "roof" to give them a secure feeling over their back half. You can see where I have drawn out a potential run for the chickens. We will have a pop door going from the coop into this run and then another door going out into the 25x25 fenced in free range area. I wanted this outside access available for when we are at work and the days that I don't want to wake up at the break of dawn (i.e. weekends). This smaller run will be able 8'x3'
I also do squarefoot gardening.  These are my current plots ready for the spring. They have garlic growning in them now over the winter, but I plan on a full 4x4 section to be dedicated for chicken yummies.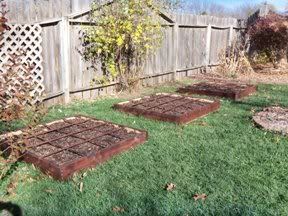 Can't wait to get started! I'll be sure to post pics when the chicks arrive.  They are currently scheduled to be shipped on March 5th, 2012!
We have ordered 2 Delawares, 1 Buff Orpington, and 1 Barred Rock - all pullets. 
Day One of Coop Building - Cleaning out the mulch
Brooder from a small animal cage
Day Two of Coop Building - Removing the dead tree