| | |
| --- | --- |
| Standard and Bantam | |
| Colors: | Various |
| Eggs: | Light Brown to Brown |
| Temperament: | Calm, but can be aggressive |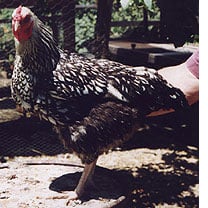 The Wyandottes are beautiful chickens from the American class. The history of the Wyandotte is extensive. The first type of Wyandotte was created in New York using silver Sebrights and the white Cochins and was called Sebright Cochins. They were mixed with a cross of silver Spangled Hamburg and Buff Cochins.
The resulting chickens were called American Sebrights and Sebright Wyandottes. Those chickens were bred with dark Brahma and silver Spangled Hamburgs and the original Silver Wyandotte was developed. The Golden laced Wyandotte was developed in Wisconsin using silver-laced Wyandotte's females and crossbred Partridge Cochin-Brown Leghorn males. White and Black varieties came from off shoots of the silver Wyandottes. Partridge Wyandottes was created using Cochins (and sometimes Cochin/Cornish crosses) with golden Wyandottes. Columbian Wyandottes was crossings of White Wyandottes and Barred Rocks.
Wyandottes were first recognized in the Standard of Perfection in 1883 but the breed was not strictly characterized until 1925. The American Poultry Association recognizes Silver Laced, Golden Laced, White, Black, Buff, Columbian, Partridge and Silver Penciled. Other varieties include white laced yellow, blue laced gold, blue, blue laced, buff, buff laced, red, barred, white mottled black, buff Columbia, Columbia blue, blue partridge, red partridge, and white partridge.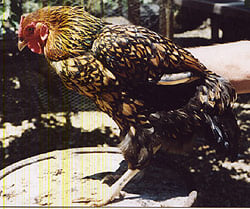 Wyandottes are good dual/general purpose birds that weigh six to eight and half pounds. They are birds of curves with attractive color patterns. Hens lay between 150 and 220 large light brown to brown eggs a year. They mature quickly and the meat quality is very good. Wyandottes brood, infrequently or quite easily depending on the variety and individual hen, and their mothering skills are quite good.
Wyandottes have low red Rose combs that follow the contour of the head. Sometimes, due to the many breeds that went into developing Wyandottes, single combs do show up. The wattles and oblong earlobes are red and medium in size. Wyandottes are cleaned-legged, without beards or crests and have the standard 4 toes. Their skin color is yellow. They are very hardy birds that do well in cold weather and their rose combs do not easily freeze. Wyandottes might need to be kept in a covered run or have their wings clipped to keep them grounded.
Wyandottes are friendly and generally have a good disposition but are sometimes aggressive. Some varieties are not as uniformed as others are and older types are in higher demand. Wyandottes are great foragers and they bear confinement well. They are very attractive birds that would make good pets.