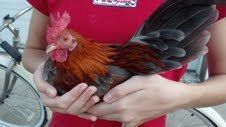 Pros: Beautiful, loving, and can get attached to you.
Cons: Roosters don't like others at first, but after awhile they get along, with occasional spats. Typical with any breed of rooster.
Excellent breed. Mine is very friendly, especially for a rooster. He loves to be held, follows me wherever I go. He has the best personality, he even chills and looks around in the car or when I ride my bike. I just hold him under my arm and he seems to be enjoying himself. 
 I'd be a wreck without my American Game Rooster, Skittles. (His picture is my profile pic!)