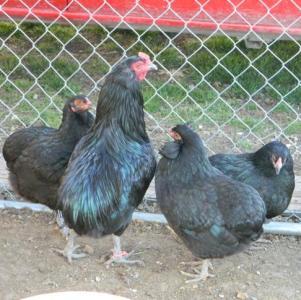 Pros: Unique, very people friendly, hardy, good layers in heat and cold, lovely blue to greenish colored eggs, great forager, dual purpose, great personalty
Cons: The lethal tuft gene that results in some productivity issues.
A challenging breed for the newcomer and even challenging for the advanced breeder when breeding towards the SOP but they more than make up for all of their difficulties by providing so much enjoyment and use. Breeding for the trademark tufts is not for everyone, especially those with tender hearts. The gene responsible for the tufts (which are not the same as muffs/beard in other breeds) is lethal when the chick get a gene from each parent (also called homozygous) and will die in the shell before hatching. There is, obviously, no way to tell which chicks will die in the shell as they generally continue to develop until just before hatching so there is no way to candle...
(read more)