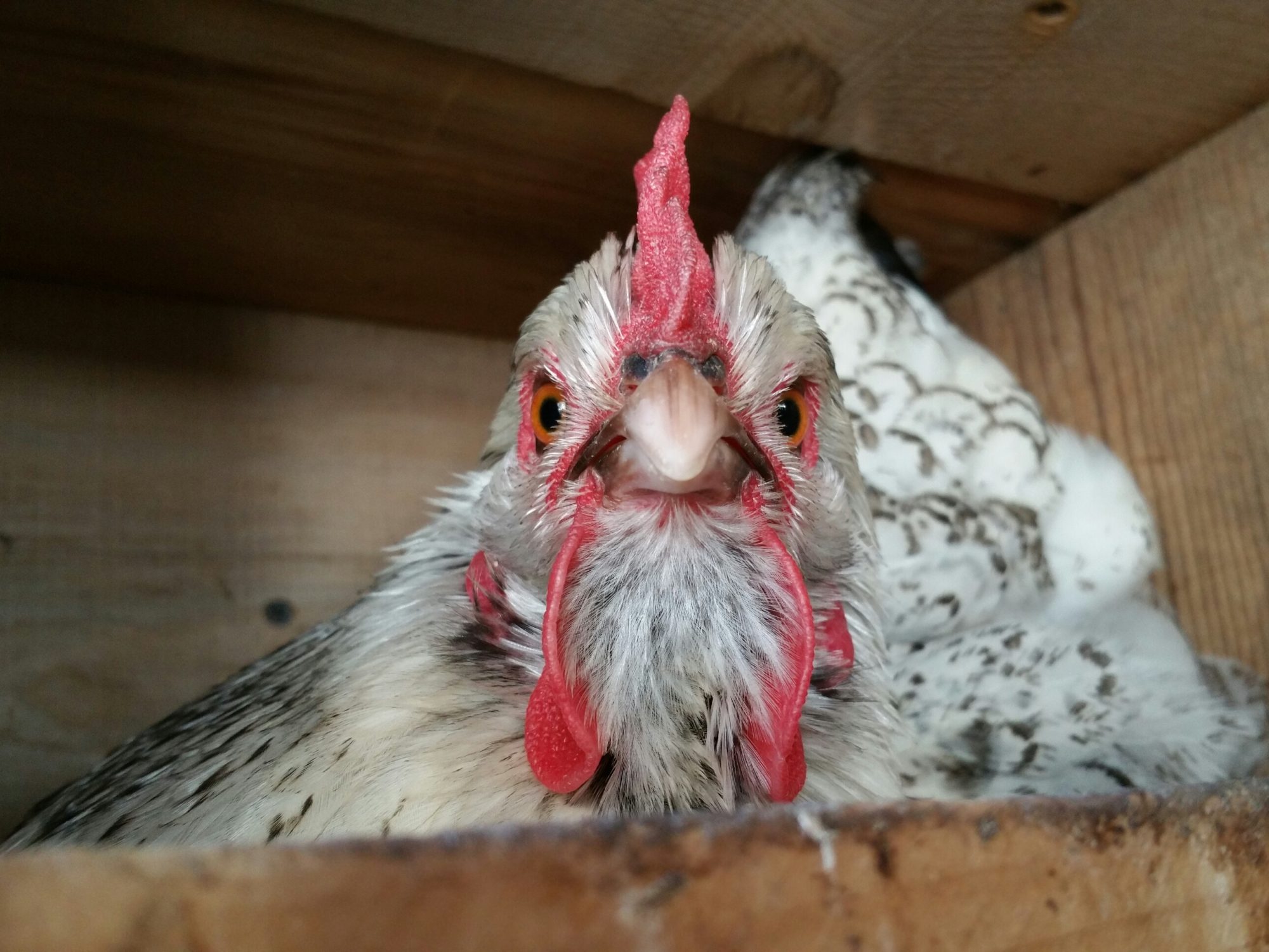 Pros: Mine are just chicks but they seem to have a social personality
Cons: They like to fly...get a lid on your brooder
I chose California Greys because they lay a white egg and I wanted to add white eggs to my basket.  They also have a reputation as a less flighty breed than most other white egg layers and it is somewhat important to me to have a friendly flock.   Of my current brood of chicks the CA Greys have distinguished themselves as the most curious and friendly in my mixed flock of babies.  When the other chicks are crowding to the back of the brooder the CA Greys are rushing up to see what I am up to or flying out to sit on my lap or shoulder.  They were just hatched on 5/24/13 so are not yet three weeks old as I type this.  I am only keeping 1 or  2 but I find myself wishing I could keep more of them.  They are also lovely to look at.  Here is one next to a mutt that I hatched who is just three days younger.  She will be barred but right now  is several shades of silver and grey.  I will update when they get older but I am excited about my CA Grey chicks.
The only reason I am not giving all 5 stars is that I have no idea how they will lay though they are supposed to be great layers.   Also wanted to add that I got mine from Privett and for hatchery birds they were big healthy and robust.
ETA got my first egg this past weekend.  Huge for a pullet egg.  I don't have a scale but by the looks of it it would be large.  Pullet who laid it was 20 weeks 4 days.  These girls are smaller then BRs, less flighty then leghorns and if this egg is an indication we will get great production.  I will update after she gets into a regular lay cycle.
ETA That first egg turned out to be a double yolker.  She has not missed a day since.  Every morning she has produced a lovely med/large white egg.  She is still sweet still curious and hopefully by this time three days from now I will have a chick from her.  A coop mate is sitting on eggs due to hatch in the next two days.