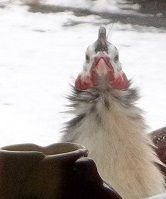 Pros: Beautiful plumage. Eggs. Good foragers. Cute. Friendly. Tough.
Cons: Can't think of any
Our Anconas are just over a year now. They've laid better than the laying hens we used to have. We have 5 girls and for the spring and into mid summer we got 5 big, delicious duck eggs a day, every day. We were amazed as our chickens never did that. Only now are they starting to taper off but still we get 3 or 4 a day. The eggs have gotten a bit smaller in size...
(read more)