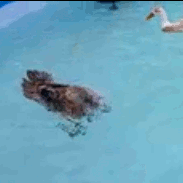 Pros: Keeps food dry, clean and uneaten by smaller animals.
Cons: Kind of pricy, but since it will pay for itself not really a problem. Requires training.
I bought one of these about a year ago and am now buying my second one. The second one is to provide multiple feeding stations, to allow me to thoroughly clean one while the other is available and to allow alternate food on occasion. My review is based on me using this with ducks not chickens. This feeder requires training so if you have a large turnaround in your flock, it...
(read more)