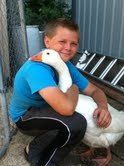 Pros: excellent guards
Cons: Hated the chickens, almost flew away, wild bite.
These geese were crazy. I had 1 male and 1 female I bought. They would bite the chickens. Every plant I had was torn apart But their food bowl was full. Almost flew away with the Canadian geese. They were 5 months. They love to bit you. Excellent guards. Yell all night. My neighbor thought I caught them in the wild. So I did the right decision, I prefer embden geese they are very nice.