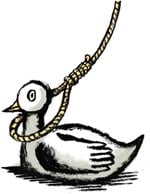 Pros: Fast easy to use. Does a great job.
Cons: Feathers can plug under the disc
I bought a one of these this summer. It is fantastic. It will pluck 2 birds in 10-15 seconds. My son in law and I cleaned 20 birds in less than 90 minutes. At the end of 90 minutes they were bagged and in the freezer. Nothing makes processing day go faster then this plucker. It will remove all the feathers and does an unbelievable job removing pin...
(read more)