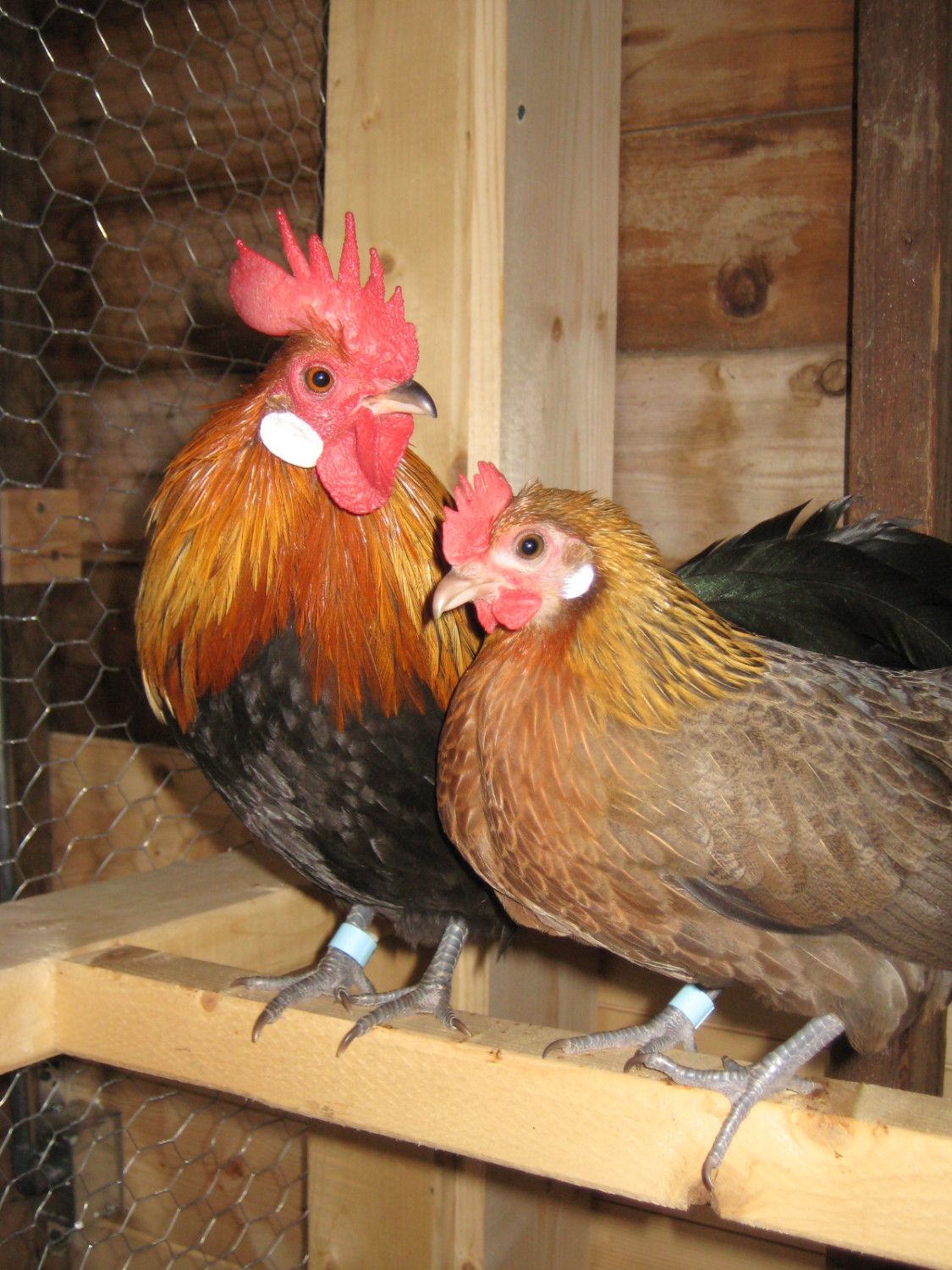 Pros: Sweet, hardy, fertile/productive, great show-birds/showmanship-birds
Cons: Frostbite possible in males, cocks may be aggressive, somewhat rare
Of the several breeds of chicken that  I have. the Dutch Bantam is probably my favorite. The males, in particular, are very pretty, but even the females have beautiful, soft feathers and bright eyes. Often, they have "conversations" with you, making sweet chirring noises in response to your voice. Though great fliers, they rarely try to escape by flying, much preferring to sit still and be petted.
The cocks are always entertaining to watch when they are around the hens. They never give up trying to court the hens, and are always finding (supposedly) delicious dry grass, random insects, and fallen leaves that they think that their little females will like. The hens just look at the cocks disgustedly, as though saying "Really? I won't eat that!". But, despite the males' hopelessness, both sexes get along together. The males ensure that the females are always fertile, but they rarely rip out any feathers, and don't over-mate the hens.
Dutch Bantams, though not very common in the United States make great show-birds. The males always show themselves very nicely; however, the females can be a bit lazy, and not hold their tails right. They also make great showmanship birds for kids just getting started in raising and showing chickens. They tame very easily, learn how to pose quickly, and, once accustomed to being held, do not struggle. While some cocks may be aggressive, especially when guarding their hens, if handled enough, a little 21oz. cock poses a very small threat. 
When purchasing Dutch Bantams for show, keep in mind, though, that a lot of Dutch Bantams in the United States, particularly those from hatcheries, have Old English Game Bantam crossed into them to improve the color. This destroys the type, makes the earlobes red instead of white (they should be white) and lightens up the leg color, which should be a nice dark blue slate. Show-quality Dutch Bantams can generally only be bought from breeders, not hatcheries. This may be difficult to do, as there are very few breeders with pure Dutch, but it pays off in the end. Over in Europe, there is quite a different story. There, where Dutch Bantams were first developed, the Dutch Bantam is highly standardized. European birds have great type and coloring, and are truly a magnificent sight to behold.
If kept under the right conditions, Dutch Bantams are very hardy, productive birds. They don't mind hot weather, and (at least the hens) can withstand cold weather well. Rain doesn't faze them, and they will happily go out in dewy grass. They are great hunters of grasshoppers and other insects. So far, I've never had any serious problems with disease in my Dutch Bantams. The hens are pretty good layers of small white or cream colored eggs, and, though they do go broody, are generally easily broken up. The males are amazingly fertile, with (under proper conditions), over 90% of the eggs I set hatching.
Basically the only major disadvantage of the Dutch Bantam is that the males' large combs are susceptible to frostbite in cold weather. This can be prevented by keeping the temperature in the coop above freezing by use of a heater or heat lamp, by rubbing Vaseline on the combs, or (though this can't be done to show-birds--only breeders), dubbing of the comb. 
In conclusion, Dutch Bantams make excellent pets and show-birds. I would definitely recommend them to anyone interested in raising small, sweet birds with big personalities.