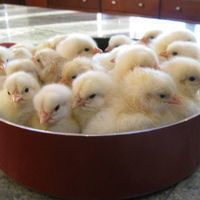 Pros: Nice digital readout of Set Temp, Incubation Temp, Humidity. Holds temp well. Great interior viewing.
Cons: Must calibrate humidity monitor; humidity trays need figuring out for correct percentage
Hi.  My name is Peep_Show and I am a hatchaholic.....
Upon getting a Brinsea with all the bells and whistles, I started ordering eggs.. Lots of eggs.  And, thanks to assorted variables, they all started arriving at staggered times instead of the well-orchestrated schedule I thought I had implemented.  It became readily apparent that although the Brinsea could incubate, I was going to run into problems at lockdown with hatching on widely different days.   That and the fact that the Brinsea doesn't have a lot of chick room created the decision to get a second incubator for hatching.   The recommendation from other hatchaholics on BYC was the Hova-Bator 1588.
PROS:
I purchased this unit from Fleming and it arrived in fairly short order.  The first plus right out of the box was that the incubator lid and bottom stacks into itself for easy, compact storage.  The interior of the incubator appears deep and cavernous thanks to its high top and rounded corners and almost makes you wish there was an interior light.  The viewing window is quite large, encompassing nearly the whole top of the incubator.  There's plenty of room for turners and thermometers.   Just one vent hole in the top, red plug included.  If you have an auto-turner, the cord fits snugly out of a corner without a big cord gap space to let in cold air.
Reading the instruction manual first (always a good idea), setup was easy.  I put two Accu-Rite thermometer/hygrometer units inside and found the temp to be right spot on.  The humidity gage, though, was off a good 5-6%.   Following the directions, calibration was easy to do and the humidity now holds true within 1% of what the Accu-Rites read.  The monitor is backlit and easy to read and gives the (pre)Set temperature (100.00), the interior temperature and the humidity.  A light flashes when the incubator is close to the optimal temp.
The unit comes with a removable screen floor that fits over and clips onto a plastic tray which contains water channels to fill to provide humidity.  I like the plastic insert as it helps keep the Styrofoam cleaner.   Apparently you can order replacements, too.  Cleaning of the Styrofoam bottom is easy because it is a smooth shell with no channels.
CONS:
Humidity:
Figuring out the humidity is a trial-and-error guessing game at best.   The four water channels allow for endless variations and combinations to provide the humidity you want, but you have to determine that on your own.   Channel No. 1 holds the most water; Channel No. 4 holds the least.  And, of course, there's no way to have a predetermination of "filling this plus this equals this humidity" because of location, climate, altitude variations throughout the world.   For my particular situation I found filling Channel No. 1 plus a slight splash overflow into Channel No. 2 gave an ideal incubation humidity; No. 1 and No. 4 was ideal for hatching.  The channels hold about 3 days of water (less days in higher dryer altitudes), so if you have an extended lockdown you need to have a straw or tube to wend in through the vent hole to refill the channels.
If for some reason you unplug the unit or the power goes out, I've found the humidity calibration needs to be set again.
Unlike the unwavering Brinsea, the Hova-Bator 1588  is sensitive to dipping cold room temperatures, but not seemingly as much as other Styrofoam incubators are.   A towel wrapped around it helped keep the interior temperature steady.
- - -
OVERALL IMPRESSION:
If this is your very first incubator, you'll be spoiled right off the bat and get to avoid the hand-wringing and double-checking that most styro-bators entail once you figure out what water channels work out best for the humidity you want to maintain.  The only real work during the operation is knowing when to refill the channels.  Thus far it has been a steady and reliable machine.  It hatches well and the views are great.   It's a little bit more pricey than your average Styrofoam incubator, but you understand why when you see it in action. 
If you're a hatchaholic you'll find your addiction greatly enabled..... And that's a good thing!