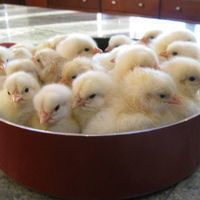 Pros: Nice digital readout of Set Temp, Incubation Temp, Humidity. Holds temp well. Great interior viewing.
Cons: Must calibrate humidity monitor; humidity trays need figuring out for correct percentage
Hi. My name is Peep_Show and I am a hatchaholic..... Upon getting a Brinsea with all the bells and whistles, I started ordering eggs.. Lots of eggs. And, thanks to assorted variables, they all started arriving at staggered times instead of the well-orchestrated schedule I thought I had implemented. It became readily apparent that although the Brinsea could incubate, I was going to run into problems at lockdown with hatching on widely different days. That and the fact that the Brinsea doesn't have a lot of chick room created the decision to get a second incubator for hatching. The recommendation from other hatchaholics on BYC was the...
(read more)