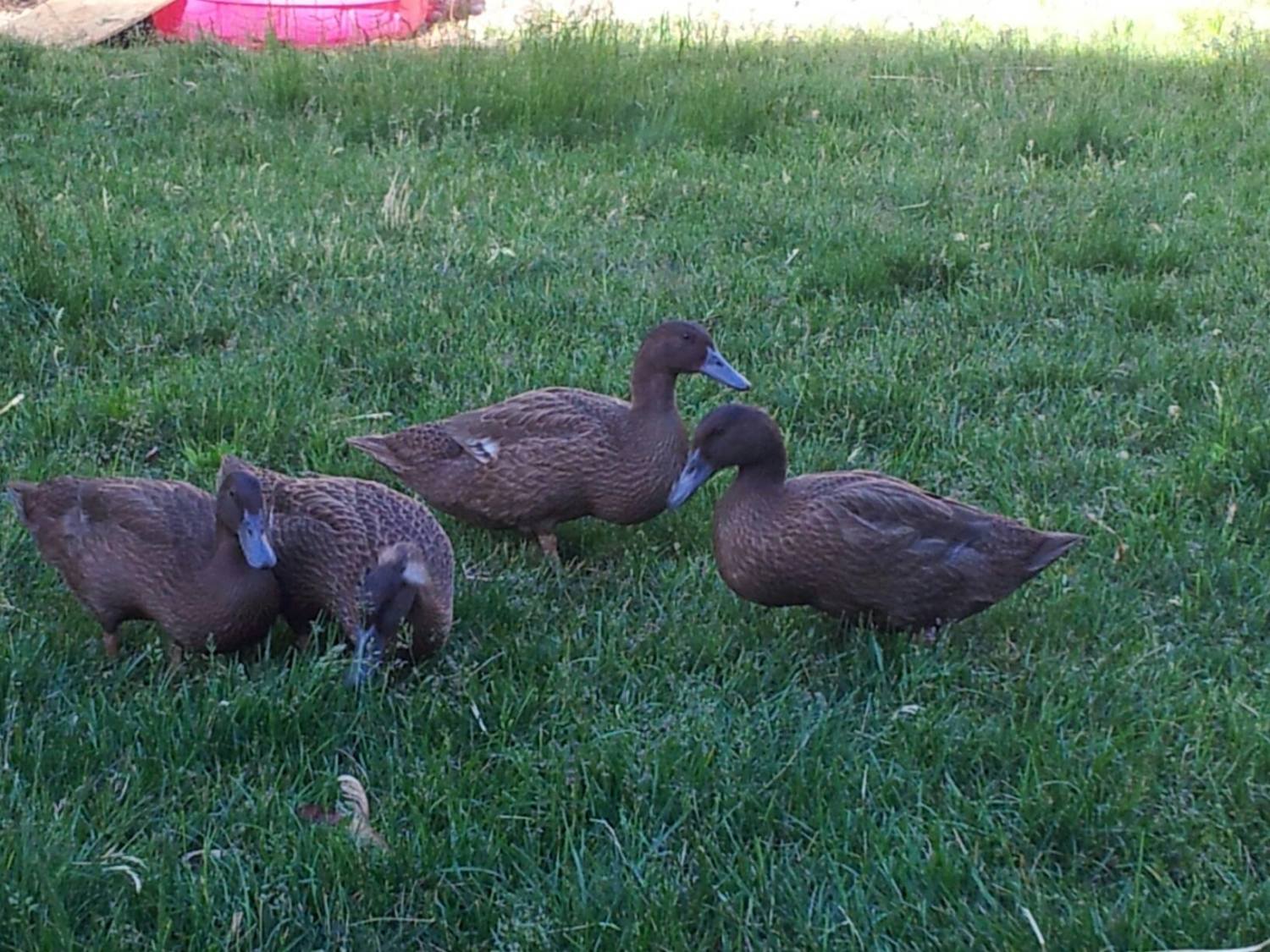 Pros: Friendly, quiet (unless they are hungry or being fed), HILARIOUS, smart, don't really fly, cold hardy, SUPER LAYERS
Cons: Poo. But they're ducks, so what do you want? Get a bit chatty when it's time to eat or be let out in the AM, but no neighbor complaints
We got 4 Khaki Campbells about 10 months ago and absolutely love them to pieces.  They started laying at about 5 months, and very rarely miss a day, even in winter.  We did lose one, I think to some kind of blockage.  :(  Otherwise they have all been totally healthy and great.  We also introduced an adult Cayuga a few months back, and after a little sizing each other up for the first couple of hours, they have all gotten along great.  
They are friendly, funny to watch, and pretty tame.  We got them as day olds and tried to handle them a lot when they were babies.  They are great foragers, eat from our hands (especially if we have peas or broccoli), and are even fairly easy to catch/pick up.  We have one in particular that actually waits behind the others when they're being put to bed at night, so she can get her cuddles.  :)  The only time they get a little noisy is when they are waiting to be let out in the morning, when they're being fed, or when they're letting us know they haven't been fed.
  They will come right up on the patio to the back door and quack at us if we wait too long to feed them. 
They have done great all winter long in their Dogloo house with a lamp, just at night.  All day long they have the run of the backyard.  They don't love the super cold temps, but as long as they have access to some kind of shelter they are fine.  They're absolutely hilarious to watch in the pool (a kiddie pool makes them happy), when they zoom around under the water and chase each other.  Then they get out, groom themselves dry, and hop right back in.  They can't get more than a few feet off the ground when they do fly, which isn't very often.
They are excellent layers, great pets, and fun to have around.  Get some Khakis, set up some chairs in your backyard, give them a pool, and don't get too close unless you wanna be splashed. Totally love our Khakis!!