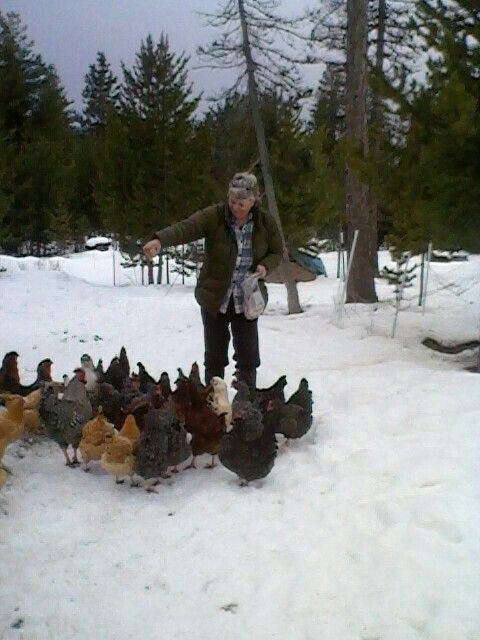 Pros: Consistent layers of medium large eggs, great bug catchers, good free range, thrifty, self sufficient, very hardy
Cons: can be flighty, not a good pet, single purpose bird
It is quite pretty to see a flock of these girls working the pasture for insects and forage. They are very independent, and preffer to be together even in a mixed flock Their independent nature is their greatest asset, that said they are excellent fliers and will go where they please and prefer to roost in the trees, unless they are coop trained!
My Lakenvelders proved to be a challenge, requiring ALOT of handling as chicks to tame. They are high energy birds, that love to roam, preferring to forage. Unlike their reputation as non setters, non broody, my girls proved to be very broody, raising their young very wild though, and they kicked the eggs of the other breeds out of the nest, only brooding their own! I guess it depends on their environment, as to how they brood, mine found the old tree stumps as the place to nest and brood, although one girl hatched her brood in the coop.
They are similar to the Leghorn in production of white, medium to large eggs, and continue to lay through molt and winter. Even though a large combed breed they have not sufferred comb freeze, and handle summers high heat and dry conditions very well.
 I highly reccommend these birds for someone who isnt looking for a pet, but wants a bird that is low maintance, self sufficient, extremely hardy, bug controlling, excellent egg producing, predator savy, good in confinement or free range.Perfect for the working person who dosent have a lot of time to spend with their flock but wants great eggs!
With alot of handling, these birds will tame down, but most likely not be lap chickens, though, my girls will let me pick them up for a very brief cuddle...too many bugs to chase, too much to do, busy, busy!