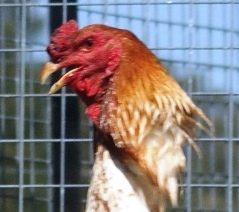 Pros: good against predators, look after them-self well
Cons: eat heaps, agressive
my malays can get over 90cm tall and over 6kg
mine are very aggresive to other chooks but fine with people.
mine also pretty much live wild looking after themself fine.
the hens are awsome mothers but can break eggs, because of their weight and will atack anything to protect them, mine go for snakes, dogs, cats and more........but this can also mean the death of them or their chicks because one accidental kick will kill them with ease.
hope this is helpful
cheers MANZO