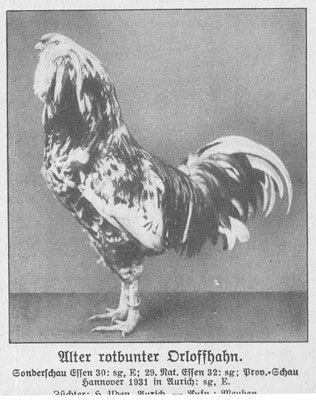 Pros: Hardy, active, larger size, capable defender, good winter layer, gamey looks
Cons: many strains aren't very broody, laying ability varies with lines, some American bloodlines have been doped with Sussex blood
Russian Orloffs are a great breed to keep. Their history dates back to the 1700s when they originated as a farm fowl in Persia. Since then, they have been bred with Malays and muffed fowl from Europe to produce the beautiful bird they are today.
Russian Orloffs are quite rare in the United States due to breeding Sussex blood into the Spangled strains, thereby producing a mutt offspring instead of the real deal. The main sign of Sussex breeding in Orloff strains is white-colored legs. Purebred Orloffs have yellow legs. Orloffs are in need of preservation due to their rarity, and there has been a rising interest in this breed over the past few years.
Orloffs are extremely cold hardy and are known to lay straight through the winter. They are disease-resistant, gamey-looking fowl with a stance similar to many Oriental gamefowl. Males are good defenders of their flocks. The Orloff's unique appearance and simple beauty make them a must-have for your backyard flock.