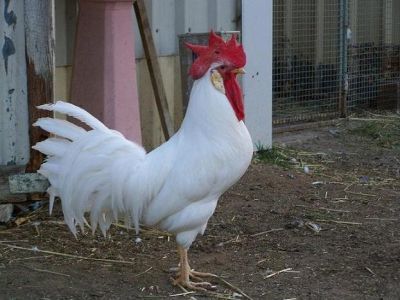 Pros: Big eggs, lay well, not broody (pro for those who only want eggs), most mature hens lay an egg everyday (or 25 hours).
Cons: (gotta incubate and brood the babies, as the hens are not very attentive mothers)
My Brown Leghorns are very good natured, and easy to care for. they lay well and lay large eggs. You can count on a dozen plus out of this coop every 4 days with only three hens laying.  I get a good hatch rate from my fertile eggs (i candle them to insure fertility).  of my fertile eggs i usually hatch 85%. of those, i brood 95%... so 3 dozen incubated, i raise 31 to maturity.  They are a large foul breed and consume a bit more feed over time, but i feel the bigger eggs are worth it.... I sell my surplus eggs for 3.00 a dozen and it covers the feed for that pen every month except during a molt...  Leghorns are by far, my favorite breed.  They are definately a chicken that "earns their keep"...