1st PRIZE @bantambury
this is my little dutch bantam, Enid, modeling our adorable hand-made floral vest and clothesline costume. I made the close line band out of an old headband which i covered with shredded fake leaves to look like grass. then i used some Popsicle sticks and string to make the clothes line, and i made little shirts out of fabric. the mini laundry basket just adds to her look :)
2nd Prize @chickendreams24
Hey everyone finished my entry not as good as I was hoping for ended up having to photograph and rangle the very irritated chicken myself. Lol.
Note to self: measure the height of the chicken next time, poor Ginger was tripping over the legs. And I never did get the hat on her.
These are the two best pictures of Ginger as a scarecrow. You might imagine that she wasn't thrilled. Next time I'll get help.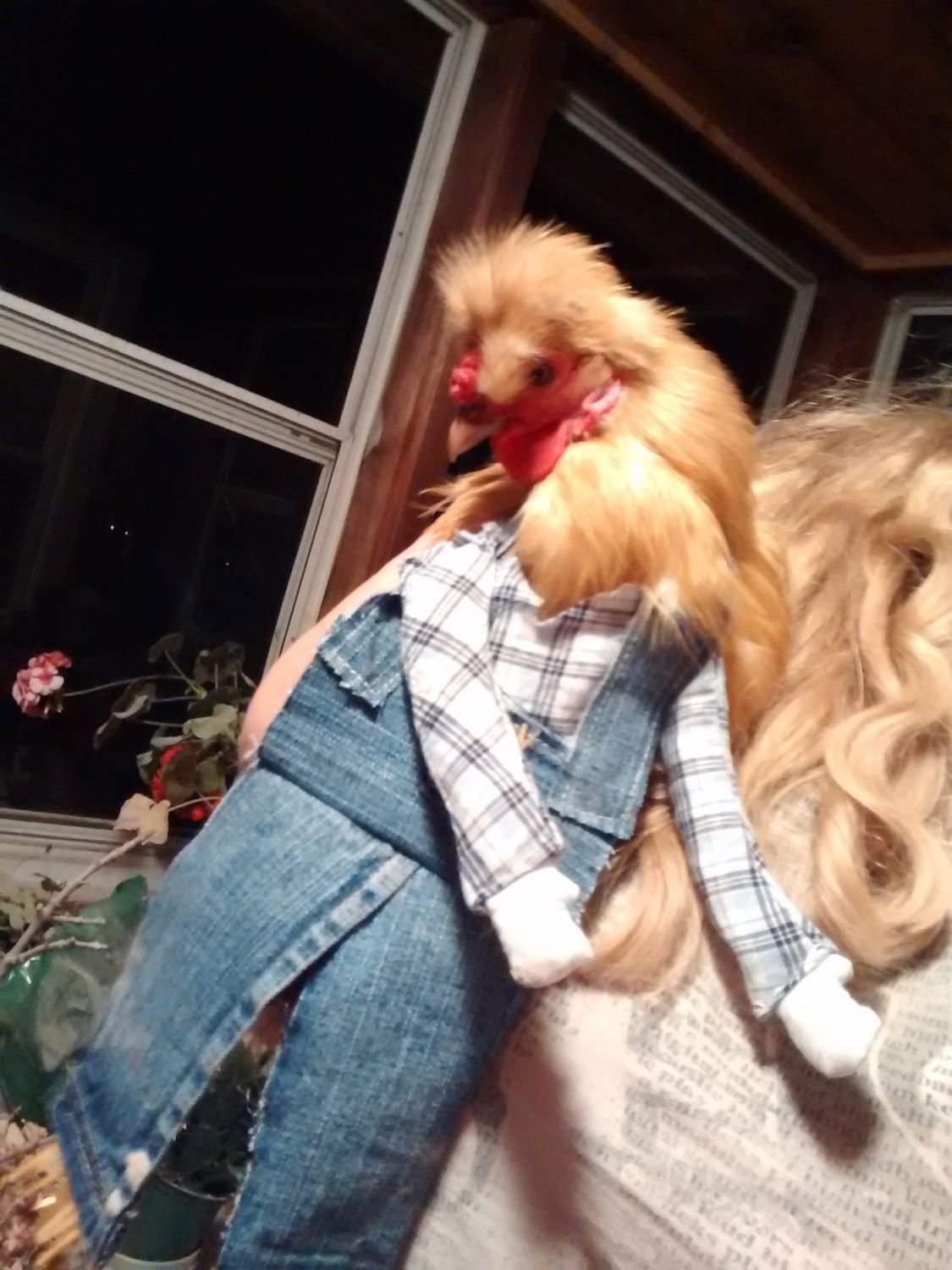 Here I have added a photo of the costume not on Ginger so the details and hat(which would have to have been glued on her head to make it stay there) can be seen.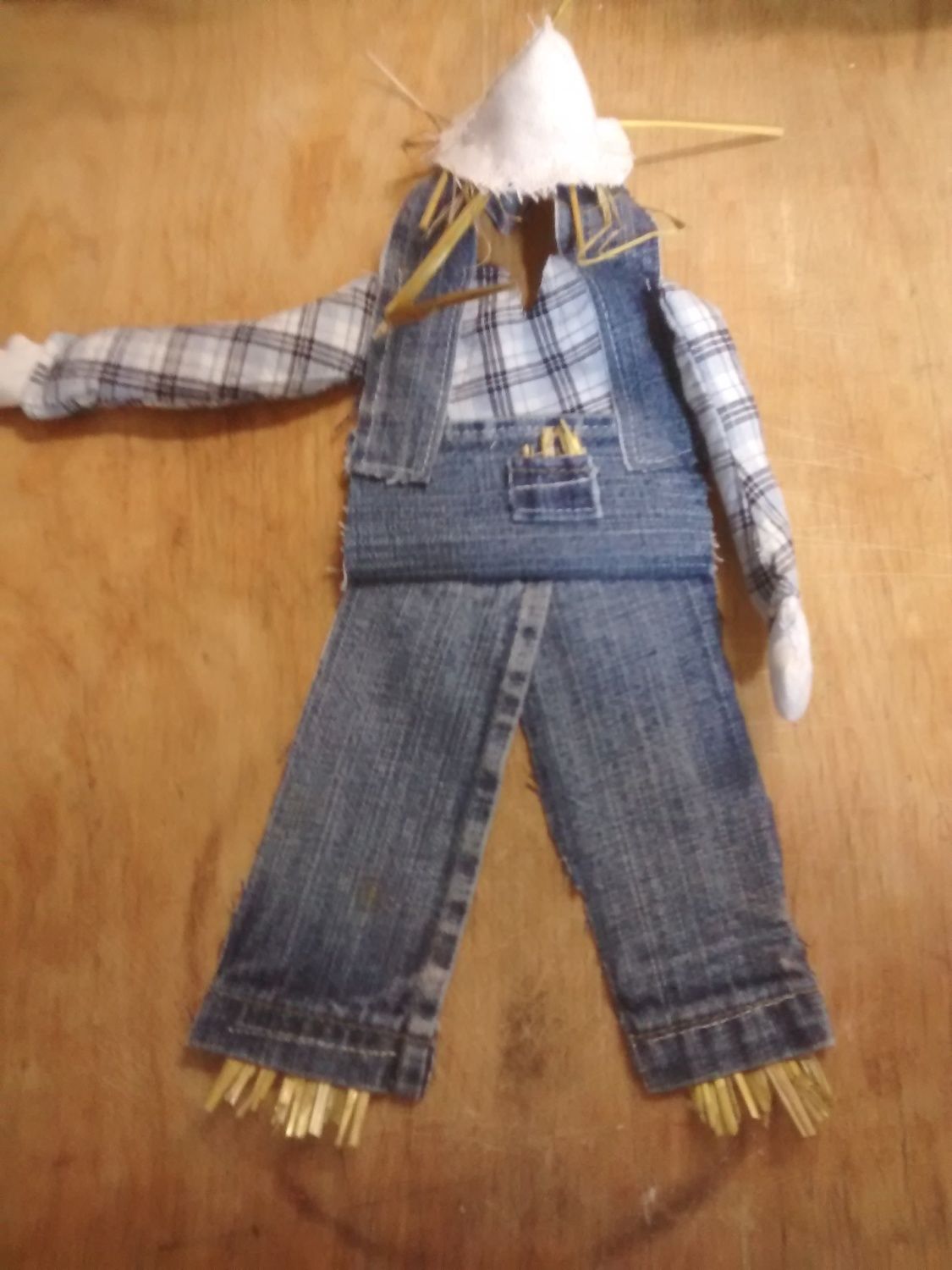 I sewed all the items from scrap material and added the straw details myself. As can hopefully be seen from the photos I made overalls with a front pocket that has straw spilling out and a shirt with attached arms and hands. There is also straw out the bottom of the pants and the hat.
please message winners and include me so that I can mark them off when they receive their winnings,
Thank you for your donations!
RULES:
ONLY OPEN TO ACTIVE MEMBERS OF 2015 HALLOWEEN HAL thread
PRIZES are for US only
2 COSTUME ENTRIES PER MEMBER ONLY
3 IMAGES of a single Costume (MUST be on the Fowl)  on a single post
Entries welcome for ALL types of Domestic fowl Costumes chicken, duck, geese, quail, etc.
Your costume must be created with at least 50% materials that come from something other than a store-bought Halloween costume.
We want you to come up with something that is uniquely your own and not part of something that is commercially available.
But feel free to accessorize your DIY costume at will,  In other words, wigs, hats, facial hair, makeup, fake blood, gloves, hats, jewelry, teeth, etc. all can be added to your original look.
Please include a brief description on how you created your costume; what materials you used!
NO PHOTOSHOPPING IS ALLOWED, but REMEMBER PHOTO QUALITY does come into play, as we have to see see the quality of your DIY.
The decision of the winners shall be made by the judges and will be final.
BYC Administration reserves the right to disqualify any artists not following rules.
All BYC Rules Apply! VOID where Prohibited!
  1st PRIZE
Are you wondering if this thing is for real? 
We wondered the same thing, incredulous that chickens could actually enjoy swinging. We thought it was just a glorified roosting pole. 
We're happy to say that we were wrong! This thing is a revelation: chickens seem to love it. Take a look at the video at the site and decide for yourself! 
http://www.mypetchicken.com/catalog/Gifts-for-Chicken-Lovers/The-Chicken-Swing-p1548.aspx
Donated by:  
  
Thank you! 
   2nd PRIZE
Your order can contain any selection of the following:
http://www.mypetchicken.com/catalog/Fertile-Hatching-Eggs/Hatching-Eggs-for-Education-p911.aspx
Ameri-Flowers
Bantam Calico Cochins
Bantam Chocolate/Split Orpingtons
Barred Blue Egg Layer
Barred Olive Egger
Birchen Marans
Blue/Black/Splash Marans
Blue Andalusians
Blue Olive Egger
Blue Sex Link
Blue/Black Orpingtons
Delaware
Dominiques
Easter Egger
Lavender Ameraucana
Olive Egger
Seramas
Sex Link Olive Egger
Speckled Sussex
Super Blue Egg Layer
Super Chocloate Egg Layer
Super Green Egg Layer
  Donated by:  
  
Thank you! 
    Good Luck 
           &
     have fun!
fishnet1971's fun and creative constume images below!
If you have not joined
the Halloween HAL join us here:
http://www.backyardchickens.com/t/1020981/halloween-hatch-a-long-join-us-if-you-dare
Edited by Sally Sunshine - 11/5/15 at 2:48pm