I'm taking this from a great assisted hatching guide Sally Sunshine created. It's a long document, so I wanted to get the part that's pertinent to this question. If you want to look at the entire document, you can find it here-->http://www.backyardchickens.com/a/step-by-step-guide-to-assisted-hatching.
Creating an Artificial Pip or "View Hole"!
Disinfect & WASH your hands!
Begin this step by making small hole at the pip area
(or closest to where you hear him chirp)
ONLY IN THE AIR CELL AREA!!!
TYPICALLY his beak is towards the LOWER DIP IN THE AIR CELL as shown below
Make "Only" a small hole ENOUGH so you can see that the little beak is free of the inner membrane. Use a flat tipped tweezers or a knife. DO NOT POKE just chip and then use tweezers to pull that white outer membrane away a tad until u can see his beak. Remember, THERE is an OUTER white membrane and an inner membrane. It is very important at this stage not to damage the inner membrane that holds all the chick's blood cells.
If you need to create a pip its best to keep scoring a tiny X until you can chip the hole. You can also use a tiny sharp drill bit, NOT in the drill, I just use it to score the X, but DO NOT harm the chick! DO NOT CRUSH THE EGG with force! It is very hard to start a pip if you dont have one, so be prepared with multiple tools if one isnt working for you....
If you open that pip and can see her beak like below, then leave the egg like this.... set her on a dampened paper towel,  and put her back in the incubator and raise the humidity.  Then WAIT.... WAIT WAIT!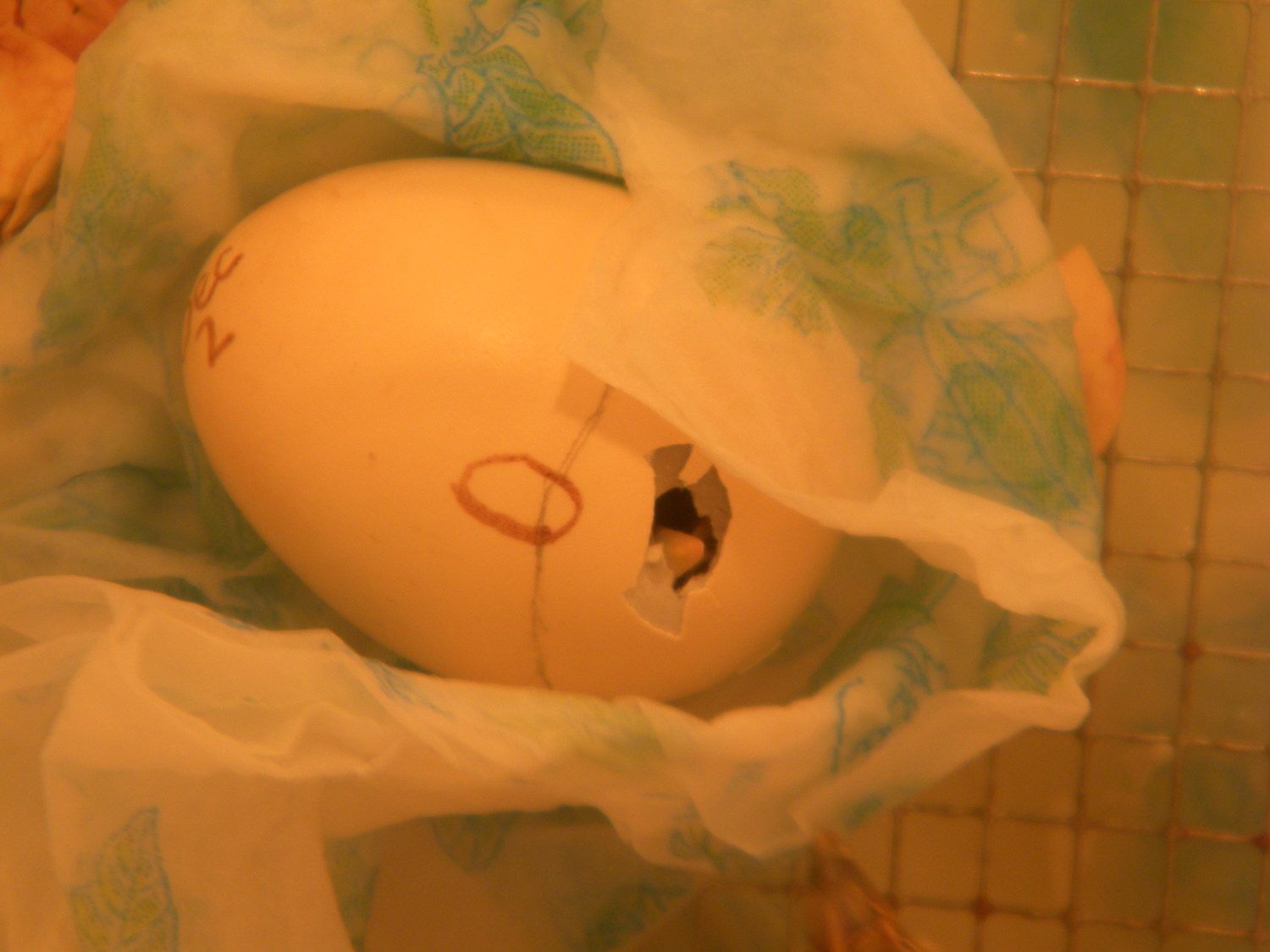 If you have made a pip AND CANNOT SEE THE BEAK, open a larger hole in the shell little by little, in the AIR CELL Area ONLY, DO NOT GO BELOW THAT LINE. As you can see in the photo below this little bugger was a hard one to find! Again, only clear the beak then dampen the membrane with a finger dipped in sterile/clean water (DO NOT GET NEAR HIS NOSTRILS and DO NOT PULL any MEMBRANE with blood in it!)
Set the egg on a damp paper towel and return to the incubator.