NAVELS:
She HATCHED! But what's with her butt?

So I have a hatched chick like this. What should I do?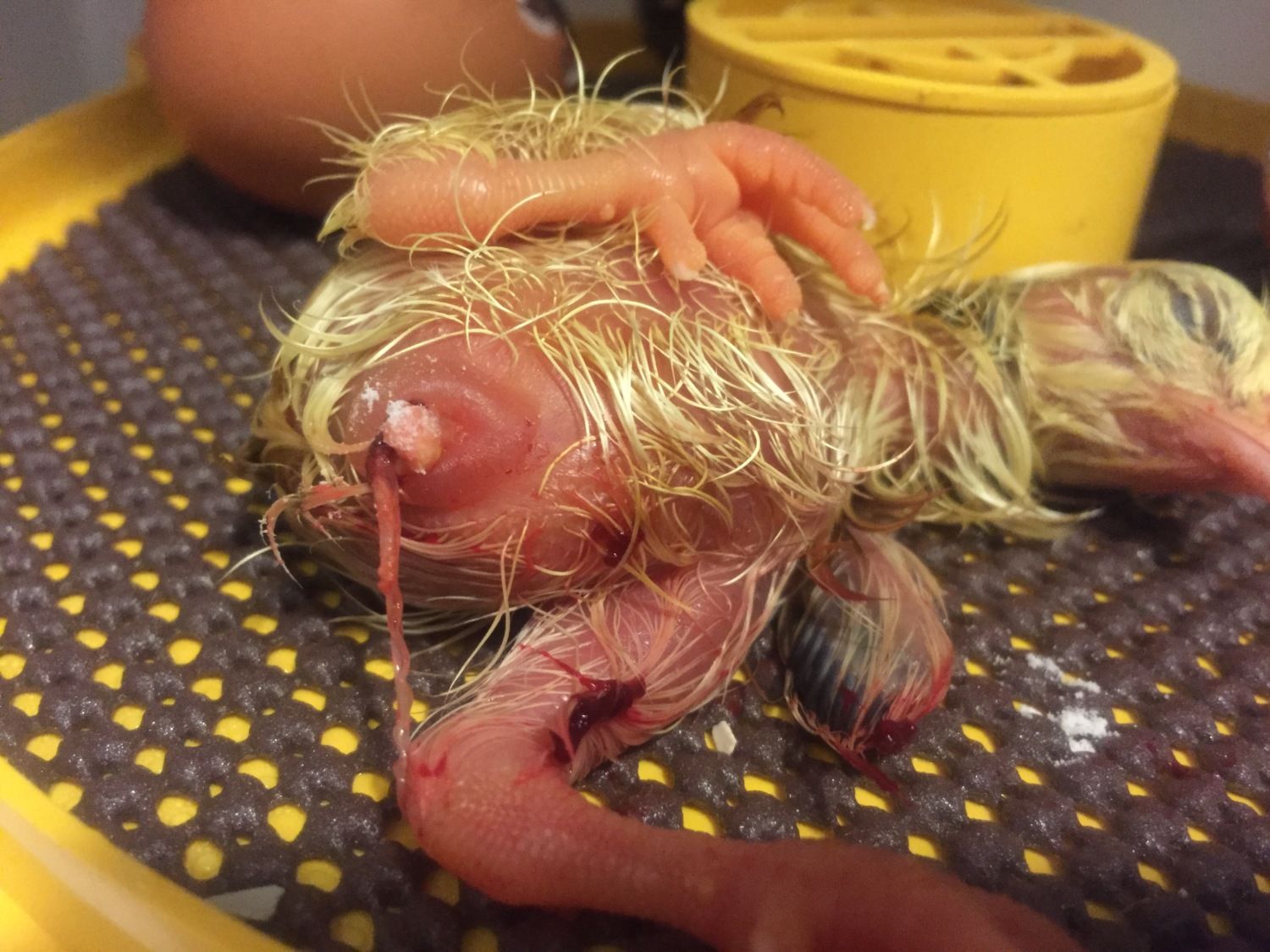 ABOVE IS COMMON UMBILICAL STRINGS, just pinch that off with your nails, or BLUNT scissors, you can put iodine on that butt, you need it do dry and heal.  If its bleeding use blood stop, corn starch or flour to get it to stop then iodine.  keep it separate from the others they will peck it
Quote:
Quote:
Originally Posted by
mrleeroy

@Sally Sunshine PLEASE is there anything I can do for this?
 iodine and keep it separate from others,  give electrolytes and it should be ok if it doesnt get infected just dont touch it and use iodine or something like to keep it sanitized but dry....     
KEEP FROM OTHER CHICKS
If there is slight bleeding at the navel use corn starch or a dab of cold water to stop the bleeding.  You can also swab the umbilicus area with a 1% solution of Betadine and place the chick back in the bator to dry. If you do see this and the chick is already out of the shell dangling with this, use a clean sterile scissors to cut through them, DO NOT PULL as you can harm the chick's navel!
But only the cords!
DO NOT CUT IF THERE IS UNABSORBED YOLK SACK!!
Please see below for info on unabsorbed yolk.
Please see HOW TO TREAT & PREVENT yolk sack infections!! 
click on in the link below
http://www.backyardchickens.com/a/mushy-chick-disease-yolk-sack-infection-omphalitis
Below is a photo of a "Duck in a Cup" waiting for its yolk sack to finish up!
The chick BELOW had a large navel at hatch.
With some iodine / betadine she had quickly absorbed the rest of that navel area and is now a fine young pullet!
You want to DRY the navel not keep it wet if the chick is already out of its shell!
3 Essential Chick Care Tips (pasting up and Cord info)
http://ezinearticles.com/?Do-You-Know-These-3-Essential-Chick-Care-Tips?&id=4449831
YES this CHICK MADE IT through with proper Care!
http://www.backyardchickens.com/t/744592/day-21-ohmy
And this one MADE IT! Say Hello to "Yolk"
Yolk, a WONDERFUL Story of a Chick that stopped pipping midway and ended up having a yolk sack rupture and a bunch of other issues! It is well worth a read and "Rock" has all the footage to boot!
http://www.backyardchickens.com/t/704328/diary-notes-air-cell-detatched-shipped-eggs/3100
Edited by Sally Sunshine - 4/23/16 at 12:00pm