A few TIPS & TRICKS to add humidity to bators!
Below image is a Simple waterer/suctioner out of aquarium tubing placed through side of incubator and into water wells. Use a Kids medicine syringe to add/suck water without opening or disturbing eggs.
In the image below are the different sized cups I use the first 18 days of incubation INSTEAD of using the wells in the bottom of the incubator. I had a hard time getting humidity correct, so I started using different size containers and caps for water holding, I could easily remove & replace as necessary. It WORKS WELL and I can keep them clean and sanitized better and not disturb my eggs! I will remove these cups on day 18 so the chicks don't drown in them
and use the lower wells at lockdown at day 18.
add a touch food color you can see where water going and how full.
SANITARY PADS!!!! YES THEY WORK!
 2" funnel & we shoved it into a small piece of 1/4" tubing, a cleat on the inside of the unit (a wide-crown staple or cable staple would work also) to hold the tubing in place.  
This way you can add water to the middle of the bator without missing the water troughs and without opening the unit. see below
(Thanks tlpounds)
REMEMBER~
Surface area of water will increase humidity more so than depth!
If you need a safe boost at lockdown just add a dampened sponge or rag.
A "ShamWoW" is great as a wick and can hang from the sides or across top of incubator.
Quote:
Quote:
Quote:
Quote:
Originally Posted by
tracyjg

The one incubator will not hold water at all or the humidity goes over 80 in the incubator . It stays 60 -70 humidity on to sponges not wet but wrong out. But hard to ring them out without moving eggs and opening the incubator. The other one will hold water but will not go above 50 humidity .
I use glad food container for humidity in the styro bators:
Each one will raise humidity 5 to 10%. Sometimes I use one and sometimes I use two. They fit tilted on one side of the turner rail.
Quote:
Quote:
Originally Posted by
Sally Sunshine

Quote:
hadly workin today I see!  add it in single dishes or those little cups that fit in a turner slot.  or use the bigger half of a plastic easter eggs in the egg slots fill as many as needed, you can take out if toomuch
Quote:
To get humidity You just need a standard aquarium air pump. Get a tube and run it from the pump into a bottle of water (any size is fine, I just use a .5 liter) make sure the line going into the bottle goes to the bottom of the bottle (submerged in water). Then run a second line out from the bottle, that is above the water level. The air bubbles will agitate the water and the newly humidified air will be pumped out the second tube. Easy and Super Cheap.
(see attached pics is my rambling engineering speak did not clearly describe what I was talking about)
Note that there is a short and a long line. The short line goes to your feeders housing container. Just make sure that the short line is above the waters surface, otherwise you are just pumping water instead of humid air.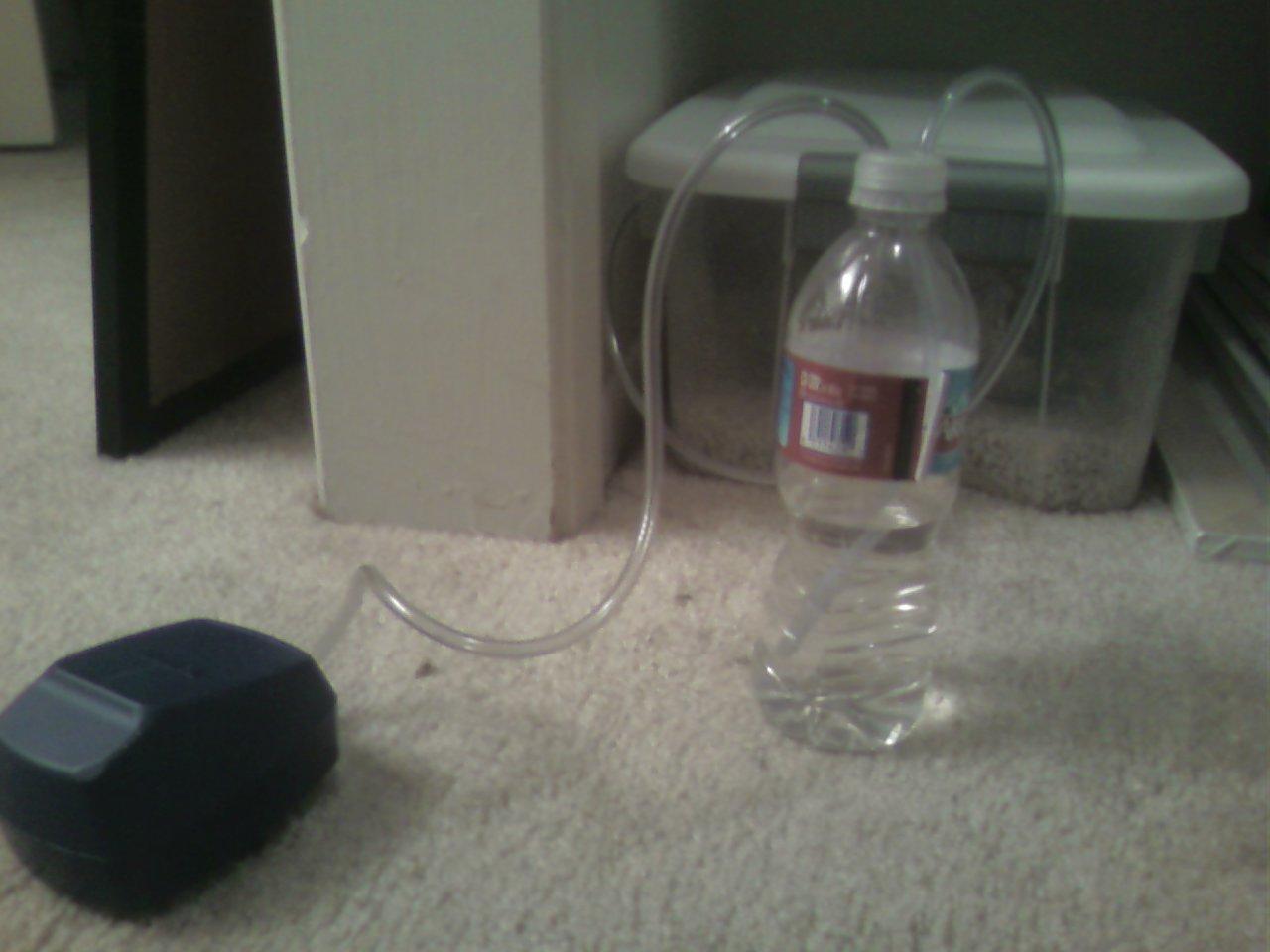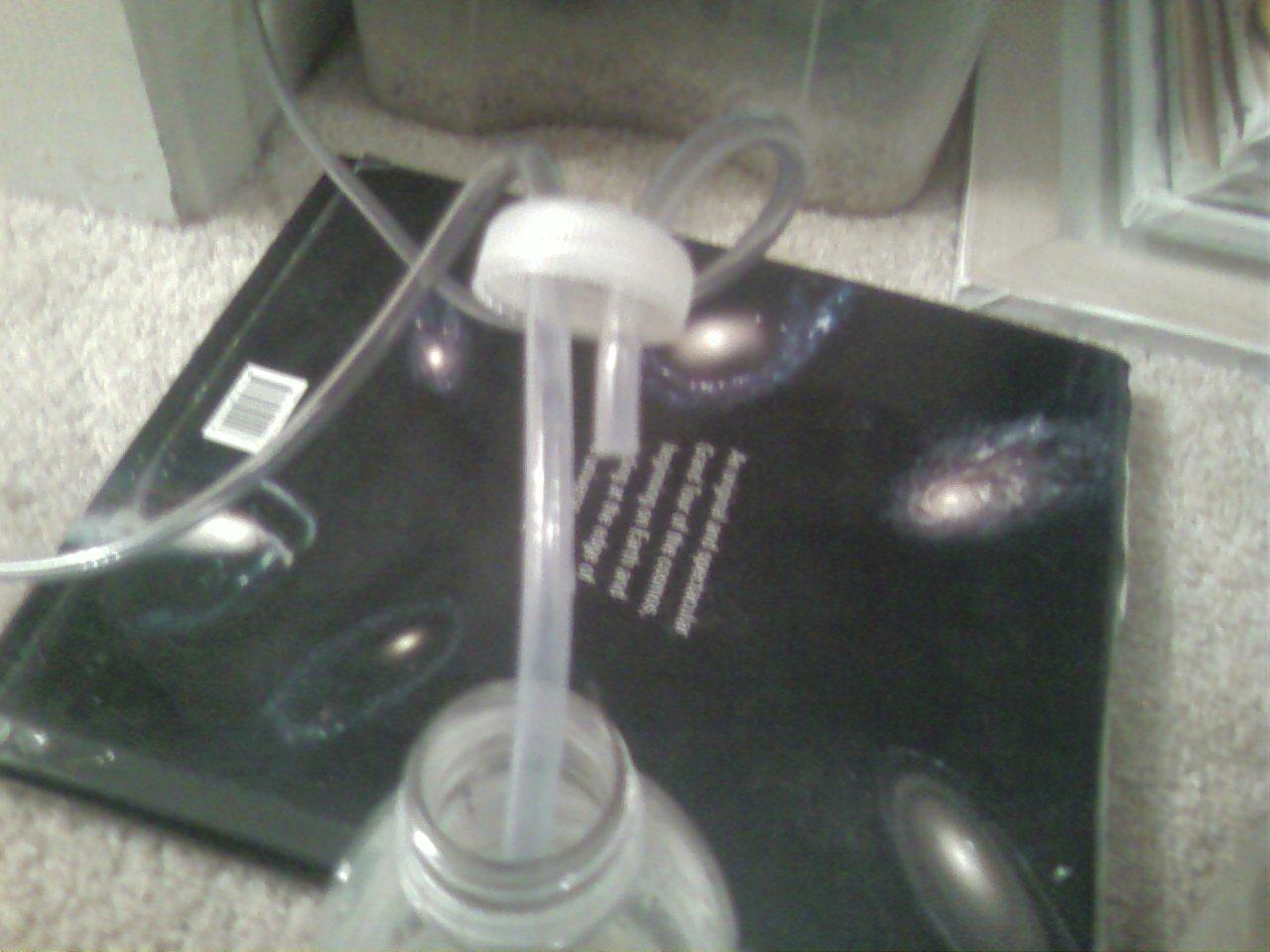 Quote:
Originally Posted by
Sally Sunshine

Flow control valve!!  thats what they are called  took me that long to remember it!!  
Originally Posted by Akrnaf2 



A tip how to rase the humitiy in your DIY bator:
In my new DIY I have fixed 2 water reservoirs wich have an alouminum pipe that stick out of them through
The bator lid, to replenish water withaout openinig the lid.
Yesterday they enterted to lockdown an i had some low humidity problems.
The only thing that fixed the problem was an Aquarium pump that I conected to one of The pipes. This pump enters air to the water and the bubbles raised the humidity!
See pic:

Brinsea Advance Incubator Humidity Pumps click HERE
Chicken Canoe small aquarium air pump to push ambient air into my big cabinet.http://www.ncbi.nlm.nih.gov/pubmed/23906223
Quote:
Originally Posted by
Wickedchicken6

The holders for the pudding cups (and eggs) are just pvc covered drawer organizers I got at dollar tree last year. Three of the long, narrow size just happen to fit across the top of the incubator. I use the other two sizes for stacking eggs to maximize egg holding capacity. I already had a bunch of washed pudding cups to water marble my nails. They just happened to be the right fit in the trays AND the chicks can't fall into them and drown.
  PVC racks.
 Stacked with pudding cups for lockdown.
  Stacked with eggs at start of hatch.
I also use wire stationary racks to stack the eggs to get more eggs in...although that can be a bit hairy (and scary)
or to hold my pudding cups to increase humidity. Some of the eggs in red had damaged air cells so they've been upright in that rack the whole incubation. They hatch this weekend.
Edited by Sally Sunshine - 6/6/16 at 8:55am