Quote:
Originally Posted by Sally Sunshine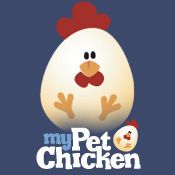 MPC Easter Egg GIVEAWAY!
Oh don't remind me! I just got that off my mind for the first time all day....
I'm counting down the days until they announce the winner
NEED...SERAMA...EGGS...
So today i started my search for "cool" store eggs, i went to three different "health" stores looking for EE eggs, duck eggs, quail eggs, etc...
No luck finding any EE eggs, but i have seen them there before, why didn't i think to try to hatch them when i saw them a while back!?
I found some duck eggs but i contacted the farm, and they told me that they don't have any drakes yet, but they are going to get drakes in the spring (not in time for the easter HAL). and absolutely no quail eggs.
BUT i did see something that i technically didn't come in looking for... BLACK COPPER MARAN EGGS! So pretty!
The farm they were from was CAROL'S EGGS. I contacted them this morning asking if they were fertile, but they haven't emailed me back yet... hoping they are fertile!
On their website they said they have Ameraucana eggs available in some stores, my store is not one of them, bummer.
It has been a good day, even though i didn't find the eggs i was looking for i still found some "cool" eggs
I did not buy any eggs, i was using everything inside of me to wait until the HAL...
Like my rainbow post? lol
[CAUTION: KEEP THIS MEMEBER AWAY FROM ALL THINGS RELATING TO "HATCHING EGGS" OR "FERTILE EGGS". SHE MAY BECOME IRRATIONAL AT THE SIGHT OF THEM. SHE WILL DO ANYTHING TO GET MORE... YOU'VE BEEN WARNED...]
[CAUTION: KEEP THIS MEMEBER AWAY FROM ALL THINGS RELATING TO "HATCHING EGGS" OR "FERTILE EGGS". SHE MAY BECOME IRRATIONAL AT THE SIGHT OF THEM. SHE WILL DO ANYTHING TO GET MORE... YOU'VE BEEN WARNED...]