Hello,
I have loved looking at all the coops here at BYC.  I spent hours reading posts and looking at pictures to get ideas.  This site was a great help.  I did notice almost all, if not all the coops were 4 sided and enclosed, which most areas of the country need, but here where I live a 3 sided coop seemed a better idea for our family.  Here in the Phoenix area, we don't need cold protection - our chickens need protection from the rain, the wind, and the predators.  A three side coop will also be cooler in the summer when our temperature can get up to 115 degrees.

We purchased a used dog run from craigslist and added the shelter onto the end of it.   It's not quite finished - I still have to paint the outside and we haven't added any nestboxes yet.  Our chicks are only 8 weeks old so we have plenty of time to add the boxes.  The run is 7 1/2' x 13'.  The attached shelter is 4 1/2' x 7 1/2' and since it's open so our chicks use it as run space too and love to lay in the shavings.
Here's a few pictures of what we came up with:

Unpainted and before adding the roosting bar - We have a six inch tall board at the front to keep the shavings in - I plan on using the deep litter method.  The picture shows a sheet on the floor - that's just my painting cloth.  The floor is covered by a linoleum for easier cleaning.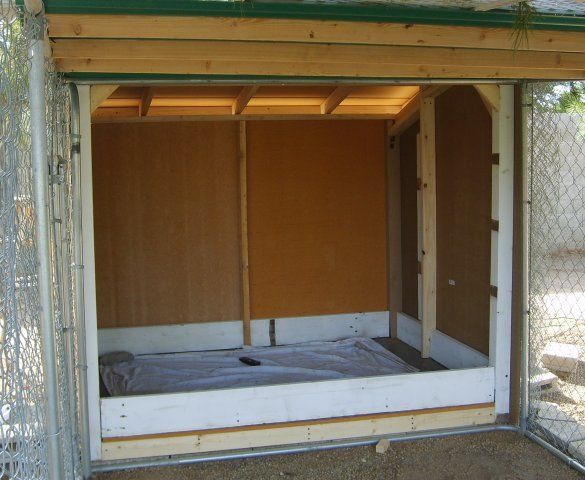 Inside painted - the smaller white roosting bar is not a permanent fixture - we were using it because they seemed to be reluctant to get up on the higher one (painted blue).  After 3 nights sleeping in the outdoor area, they finally figured out where they were supposed to sleep and have spent the last few nights up on the tall blue board together --- yay!.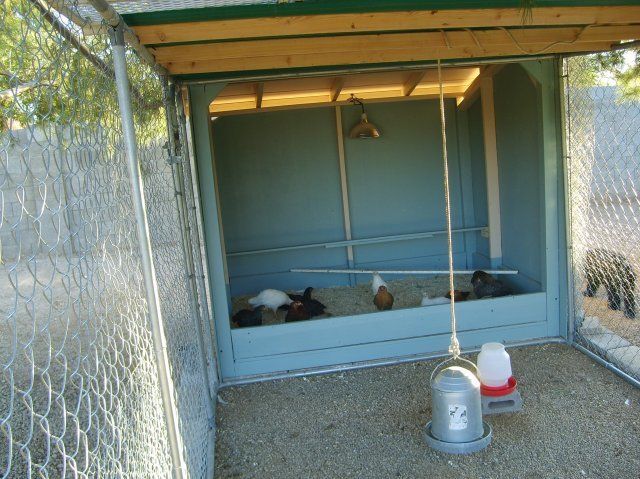 We are not using the heat lamp now, but I thought it would be helpful on those few rare nights where our temperature reaches 32 degrees.  Our shelter roof is made of wood and shingles - the green corrugated roofing comes out over the run about 5 feet for more rain protection.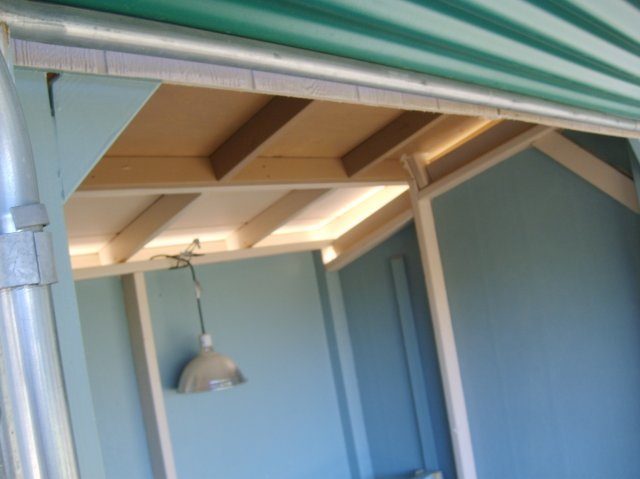 It's hard to see in the picture, but it is sitting up on blocks to protect it from water and termites.



Some of the happy residents - The log is not there anymore - I had thought they might enjoy perching on it, but they ignored it.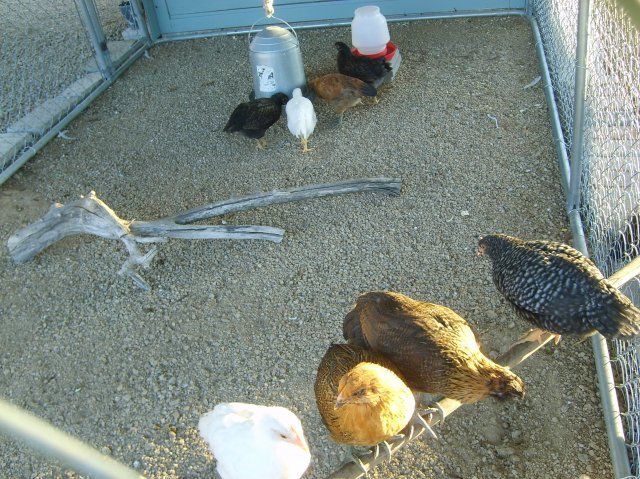 Our flock - we wanted 8 hens and started with 10, thinking a couple would be roosters.  We picked up an extra when we found a little leghorn loose in our back yard 2 weeks ago and couldn't find the owners.  They do get free-range time in the backyard also.

Edited by ArizonaDesertChicks - 12/8/08 at 12:18pm