I built an incubator!!  I must thank MissPrissy and SpeckledHen.  It was their threads, which were so great that encouraged me to fall into this trap.  There is no stopping me now.

MissPrissy - http://www.backyardchickens.com/forum/viewtopic.php?id=8510
SpeckledHen - http://www.backyardchickens.com/forum/viewtopic.php?id=43984

It did not take that much time to assemble once I had the parts.  The wiring, which I was most concerned about was not hard at all.  Again, great instructions.  The hardest part in my mind was bending that hardware cloth which is sharp and frustrating. 

I have been shopping for parts and pieces for the last couple of months.

Thermos Cooler - $2 at Yard sale.
PC Fan - Free from Friend
Fan Adaptor - Free from Co-Worker
Hardware Cloth - Already Had
Pie Pan for Bottom Water - $1 from Yard sale.
NightLight - Only thing I salvaged from one of those DOME Incubators (Never Hatched)
Hygrometer / Thermometer - Already Had
Light Ficture (Bottle Type) - $6.98 Home Depot
Hot Water Heater Thermostat - $8.57 at Home Depot
Plexiglass (1 on Ouside, 1 Inside) - $3.00 Ace Hardware

Still to purchase
Water Wiggler - Still searching for one.....
Corks

Total Cost as of now - $21.55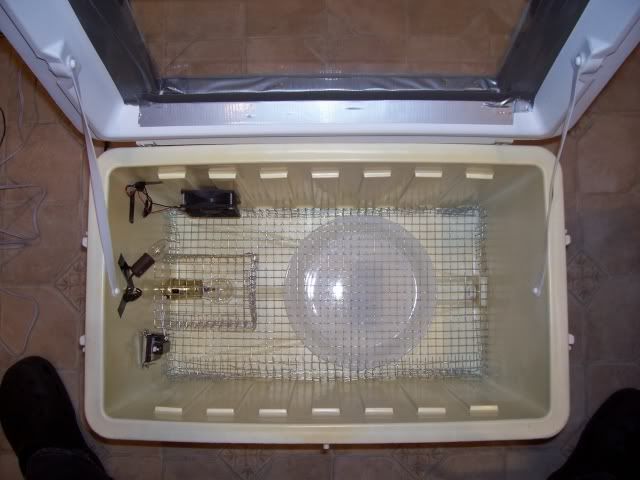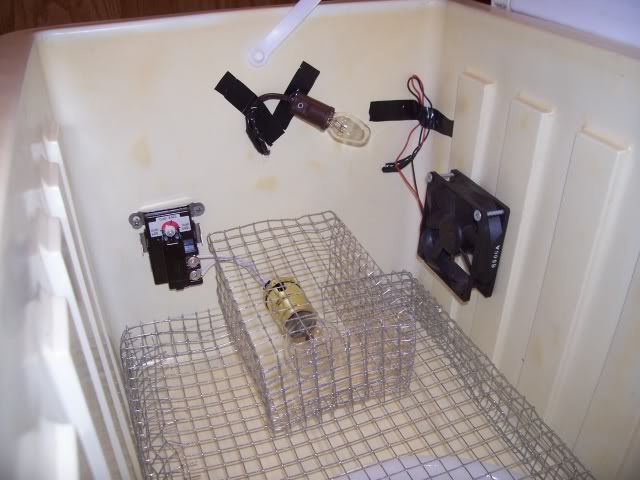 Cynthia - I am almost ready!!!!!  How many eggs would you put in a cooler incubator this size?
Edited by ThreeBoysChicks - 1/29/09 at 8:26am
~~Ed     
I thank God for all that I have; 1 Wife, 3 boys, 4 dogs, 4 cat, 2 Horses, 4 Goats, 2 Katahdin Sheep, 9 Ducks, 6 Geese, 8 Guineas, 1 Turkey, and lots of chickens
~~Ed     
I thank God for all that I have; 1 Wife, 3 boys, 4 dogs, 4 cat, 2 Horses, 4 Goats, 2 Katahdin Sheep, 9 Ducks, 6 Geese, 8 Guineas, 1 Turkey, and lots of chickens