Quote:
Originally Posted by
satburn
I've spent the last few days researching on the site.  I am green on chickens... Grandma had them when I was really little and luckily she's still around so she's helped filled in some blanks.  Decided on some Buff Orps to start out with (after much reading) and thankfully a drive to Cackle is only about an hour and a half for me.  Wanting them for eggs as of now, and perhaps meat later.  Great site and lots of info.

So.... hi there.

Welcome to BYC!!!!!!!

How many buff orps do you need, I have some hatched and ready for a new place right now and more (about 60) ready to hatch on the 14th of April !!!!!!  What town are you in?  I am in Marceline (North Central) but will be going to Sedalia on the 18th for a poultry show and swap in 2 locations that day! and south of there about an hour(Preston, MO) that same weekend to pick up some eggs from a fellow BYCer!  We could do a switch that weekend if you like.  Just let me know!

OH here is a picture with some different black chicks and buff orps.....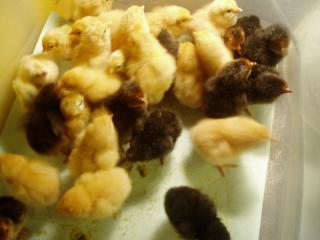 Edited by Fudgie - 4/7/09 at 9:34am