EMULSIONS per WIKIPEDIA:

An emulsion is a mixture of two immiscible (unblendable) substances. One substance (the dispersed phase) is dispersed in the other (the continuous phase). Examples of emulsions include butter and margarine, espresso, mayonnaise, the photo-sensitive side of Photographic film, and cutting fluid for metalworking. In butter and margarine, a continuous lipid phase surrounds droplets of water (water-in-oil emulsion). Emulsification is the process by which emulsions are prepared.

Examples of emulsions are mayonaisse, many salad dressings and sauces used in entrees and on desserts. They are not that hard to make and if you follow a couple basic principles will have good results:

a) ALWAYS use clean and dry utensils to prepare your emulsion
b) have all ingredients at room temperature
c) store your emulsions immediately in the fridge.


[color=red]DO NOT PROCEED with the preparation of these recipes if you're unwilling to follow basic food safety guidelines. Always coddle eggs used in emulisons like mayonaisse or Caesar's Salad Dressing - coddling eggs means immersing them in fully boiling water for at least 35-45 seconds. Also storing in the refrigerator immediately after preparation. NEVER serve a potato salad at a picnic using homemade mayo if the salad will be in the sun or in VERY HOT weather for more than 1 hour. THROW away any item left out in those conditions for more than one hour !! (Now that I have thoroughly scared the hell out of you proceed. But these guidelines are sternly laid down because nothing is more painful or embarrasing than to give yourself or your guests food poisioning !!).

MAYONAISSE:

mis en place


1 Tbls. Dijon mustard
1 Tsp. Salt
1 Tsp. Herbs De Provance
1 Tsp. Fresh Cracked Black Pepper
1 Tsp. Fine Herbs or Tarragon
2 TBLS. White Wine Vinegar

3 coddled eggs
2 cups Corn Oil

Add first group of ingredients to blender, coddle eggs in boiling water for 35-45 seconds, break eggs into blender. Set lid on blender and remove center cover, turn blender to medium high and slowly drizzle in the corn oil, a couple tablespoons at a time, into blender. The trick is never adding the oil TOO FAST. Blend and add oil, all the oil should be in in about 2 minutes. The mixture will start thickening up and take on the familiar appearance of MAYONAISSE !!.

Remove from blender into clean storage jar, I like using big peanut butter jars. Taste for S&P and adjust accordingly. Store immediately in the fridge. Makes a great spread for sandwiches, is excellent served with freshly steamed artichokes, asparagus spears or french fries (yes, this is how many countries serve french fries, with mayo).



steamed artichoke heart served with medium shrimp and herbed mayonaisse




Casear's Salad Dressing:


Caeasar's Salad was originally created by a restauranteer in Mexico, Mr. Caesar Cardini. He made the salad for his airline pilot friends that were good customers. Eventually the salad became well known everywhere as the Caesar Salad.


mis en place

1 Tbls. Dijon Mustard
2 Tsp. crushed garlic
1 Tbls. Lemon Juice
1 Tsp Tobasco Sauce
1 Tsp. Worsteschire Sauce
1 Tsp. Salt
1 Tsp. Fresh Cracked Black Pepper
1 tin anchovie filets (may be omitted for inferior results)

3 coddled eggs

2 Cups EVO

Place 1st group of ingredients in blender, coddle 3 eggs in rapidly boiling water for 35-45 seconds. Crack coddled eggs into blender. Place cover on blender, remove center cover and start blender on high speed, slowly drizzle EVO into blender - trick is to do it a few tablespoons at a time. Mixture will take on thick consistency once you have added all EVO, about 2 minutes blending time. Remove from blender into clean storage jar and immediately refrigerate.

Same safety warnings apply to Caesar's Dressing as to mayo. Do not leave out in hot sun, throw away any dressing or dressed salad left out for more than 1 hour !!![/COLOR]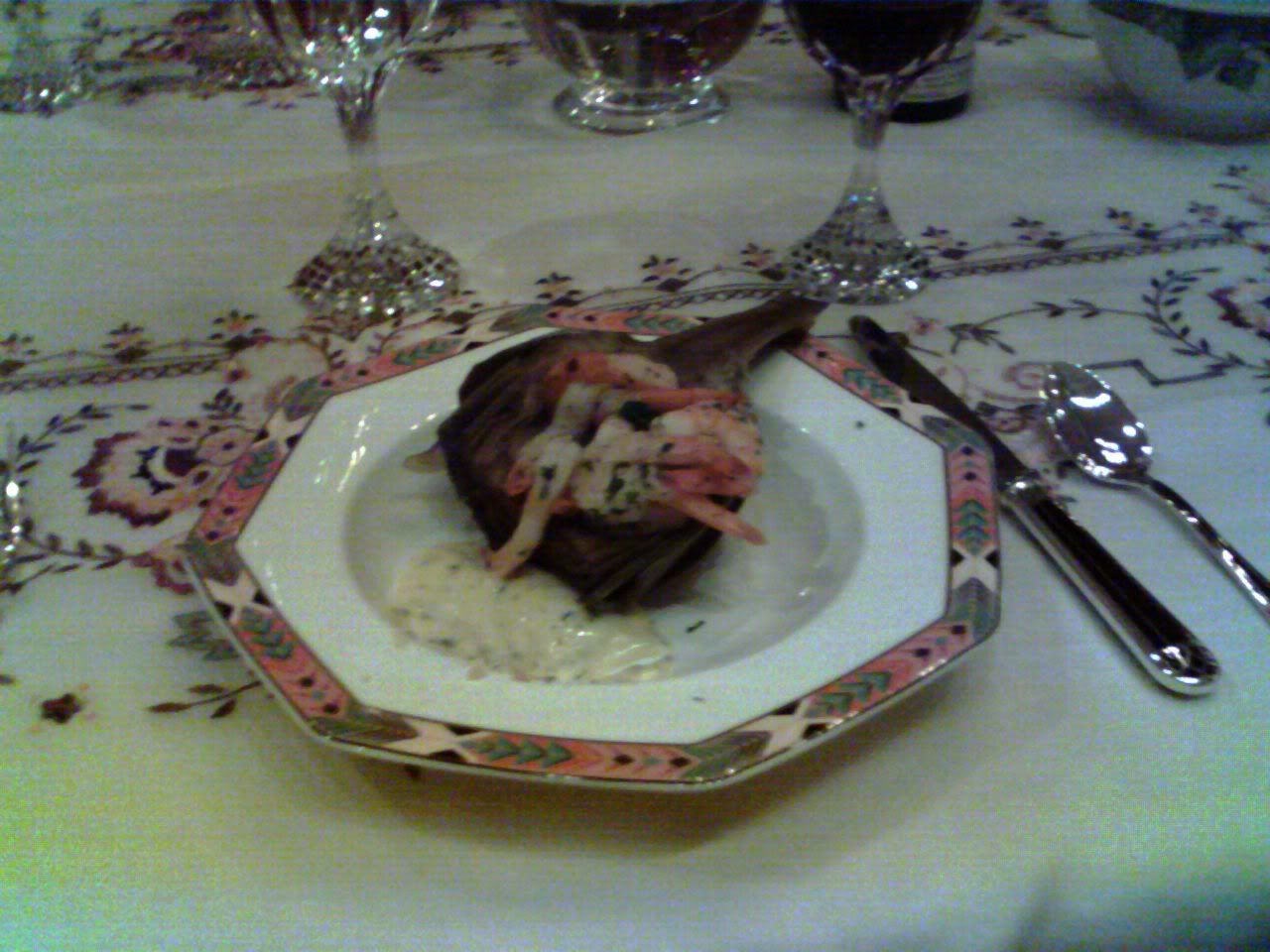 Steamed artichoke stuffed with herb seasoned shrimp and mayo - photo taken at my Godfather's place.
Edited by bigmike&nan - 4/21/09 at 9:02am
Do not be afraid nor dismayed because of this great multitude,
for the battle is not yours, but Gods. 2 Chronicles 20:15
Do not be afraid nor dismayed because of this great multitude,
for the battle is not yours, but Gods. 2 Chronicles 20:15