Chicken Jerky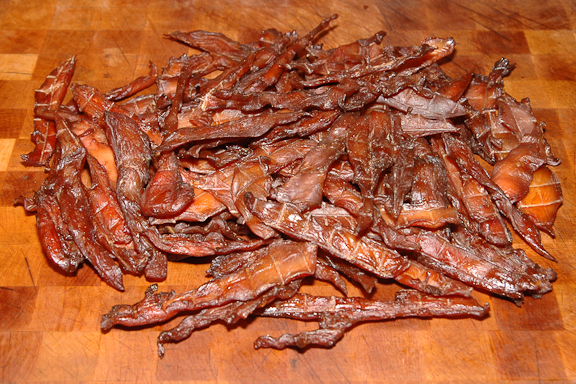 This is a outstanding marinade for making Chicken or Turkey Jerky. I let my chicken marinate in it for around 6 hours to get the full marinade flavor while still enjoying the flavor of the chicken. Then I dried it for approximately 12 hours at 165° F.

½ cup soy sauce
2 tablespoons Worcestershire sauce
½ teaspoon pepper
½ teaspoon granulated garlic
1 teaspoon onion powder
2 teaspoons Salish (Alder Smoked Salt)
½ cup Maple Syrup

Poultry Cooking Whether you are cooking, smoking or jerking poultry the internal temperature must go to at least 165° F. Some dehydrators will not heat into the safe range. Many people do it at lower temps without any problems however it is not recommended.





---john
Edited by frugal - 7/30/09 at 1:37am