Many of you may recognize this snake, the Bullsnake. Bullsnakes are NOT poisonous. It is an indigenous, solely American snake found in the north all the way to Alberta, Canada throughout the Midwest as far East as Illinois and a couple of pockets in Indiana, western Wisconsin, Minnesota, the Dakotas, Iowa, Nebraska, Missouri, Oklahoma through TX South to Mexico & West to Montana, eastern Wyoming, Colorado & through eastern New Mexico. Other American snakes in the same genus are the Pine & Gopher Snakes (many species & subspecies). Pine Snakes in the Eastern & Southeastern U.S. and Gopher Snakes in the West & S.W.

A lot of farmers leave this snake alone for good reason. The Bullsnake's primary and favorite prey are rodents: mice, rats, squirrels & gophers. One five foot specimen once was found to contain 36 mice. It is especially adept at following rats and mice & hunting/ catching them in their burrows. For good reason, the Bullsnake has been called the farmer's friend.

BULLSNAKE: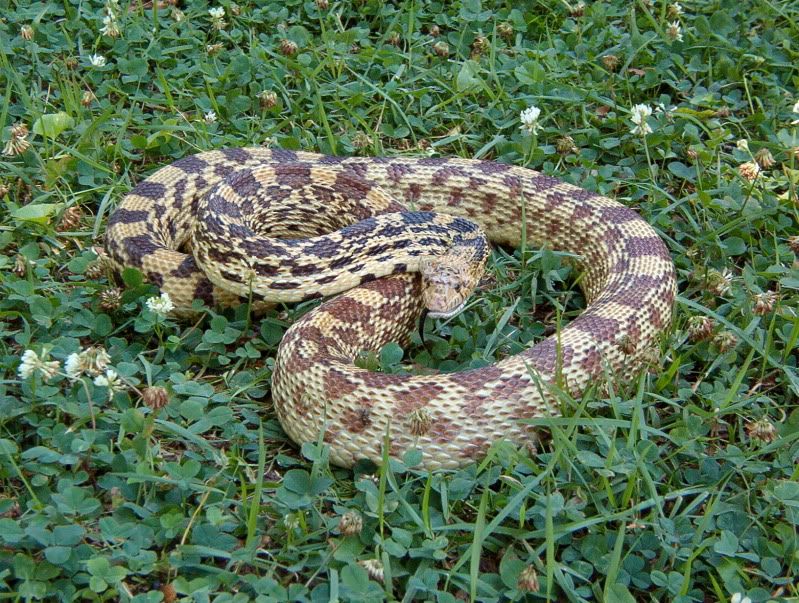 The Bullsnake will hiss and puff up expanding its body. A special glottis in its mouth helps it to hiss very loudly. It will rattle its tail and act threatening if cornered. This is the Bullsnake's defense mechanism from being eaten by top predators. This one devours large rats & mice. They are one of the largest North American Snakes normally reaching 6 feet in length with the record being 8 feet 4 inches.