You betcha! I'd be happy to relay some goodies for you. Still not sure which day I will be going down, but I'll let you know as soon as we get something worked out
And I'm sorry you lost a baby, Lisa. That must have been sad to find. Angel is still having some issues with pasty bum, but I'm working on keeping her clean so that she's comfortable. I wonder if it's because some of those Wyandottes have such long feathers? I had read somewhere that sometimes you'd need to trim a Wyandotte hen's vent feathers to ensure that she can breed easily. With how long Angel's wing feathers are already, it wouldn't surprise me. And I figured out a name for the other baby. Stevie. I figure if it's a girl, it reminds me of Stevie Nicks. If it's a boy, then it's named after Steve Owen, aka the Croc Hunter
Cynthia, your new doggie has a sweet face! How old is he/she? And your son looks handsome. That's a bummer that you didn't get to see his date, though. Aww I'd have been highly disappointed, too.
So, I am so stupid excited right now! Last night I checked on my broody Marans, and she growled at me and tried to bite me. I actually thought it was pretty cute. "These are MY babies!" My boyfriend managed to sneak a picture of what was under there today when she got up to walk around. Check it out!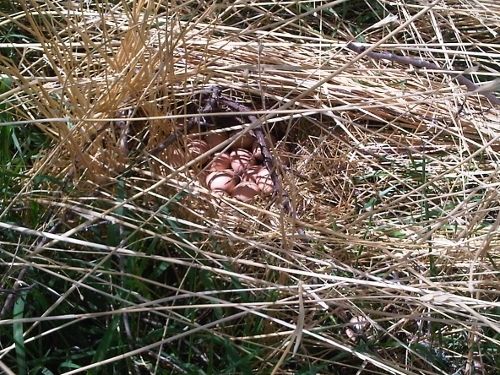 At least 14 eggs! Possibly 15
Does anyone else see both pink and medium brown in that? (I think I see pink in the middle, brown toward the back) I am pretty sure now that she's sitting on a stash of the BSL's eggs, as well as a few of her own. Today is day 9, I think. I need to go look up pictures to see what candling on day 9 looks like! And this along with the 16 they were hiding under some plywood, plus one or two eggs that have shown up in the nest box. I only have two hens. They're sure pumping them out!
Game warden of the crazy preserve. Inmates include: EE's, RIR, BSL, BO, SLW, Welsummer, Exchequer Leghorn, blue/black Wyandottes, BR's, Ameraucana's, and Icelandics <3 Plus an adopted brown turkey who is broody and must be part cobra, part goose :P
My member page: http://www.backyardchickens.com/a/red-crazy-in-the-head-p
Game warden of the crazy preserve. Inmates include: EE's, RIR, BSL, BO, SLW, Welsummer, Exchequer Leghorn, blue/black Wyandottes, BR's, Ameraucana's, and Icelandics <3 Plus an adopted brown turkey who is broody and must be part cobra, part goose :P
My member page: http://www.backyardchickens.com/a/red-crazy-in-the-head-p