Um
---
Daloorashens your EE roo is so pretty, I know I have told you this....that columbian pattern is to die for !!!!!!
Ok here is my summary of my trip. I decided to take my juveniles (all 7!) with me for the ride. It would be fun! And then I could have Michelle the expert look at the FBCM and the Wheatens to tell me their gender, she breeds both and does an amazing job. So, she thinks i have either 2 FBCM girls or one girl and one boy. Yay! Pretty sure one of each, but she said not 2 boys for sure.
The Wheatens---wow I learned a ton! The wheaten roos are almost solid black, with bits of red, they look just like Blujems, only where there is blue there is black. And white faces like owls, but she said that will go away with adult plumage. So Daloorashens yours is definitely a Wheaten Roo. Mine is definitely a Blue Wheaten Roo, should look just like Blujems, that is what hers looked like exactly. I need ahome for this bad boy so he is up for grabs! The other three of mine are girls, she was certain. She said it is all in the feather pattern, they are totally easy to see the difference as they feather in. Cynthia yours is a for sure girl if I can see the feathers right in the pic. Speckled tan and gray, not blotches of gray coming in, right? And the girls are all blue wheaten that I have. It really does look like there was only two roosters in that entire hatch of 11. Wow! Lucky!
The olive eggers I picked up are almost at point of lay, bigger than I thought, some red/darker pink starting. I thought uh oh those are boys! But she said no, the boys were red a long time ago, these are just getting mature so eggs soon, hooray! I got 2, plus one for Daloorashens. I could not help myself at this point, too far of a drive to be stingy.
Daloorashens, these Olive Eggers are identical, almost solid black, some teensy silver frost in the tips around the neck. Very very pretty and nice muffs. Will post pics tomorrow. A little ornery. But I will work on that with some treats tomorrow. And the FBCM girls are very sweet, wow I did not expect them to be so friendly. The Olive eggers----not so much. a little biting and freaking out. They were pretty mad about the trip. The Marans, sweet sweet human loving little souls. The little rooster for Blujems is the sweetest of all. Here is the last thing: She has one hen, her best hen that laid that super dark egg that I tried to hatch with no luck. . The pic will be below. She said she did not mark the babies that hatched from those but there should be a couple of girls in this batch from this particular hen. So one of us might get a crazy dark egg from that layer. Eenie meenie miny moe! haha! Man I wish they were marked. Those eggs were gigantic. Crossing fingers!
So I drove back with 15 chickens in the car in 3 cages/brooders. Ha ha. You had to be there
I texted Hattie with my hero worship of her driving with all those chickens for so long from St geo. Mine were really noisy for a bit....I decided they like rock and roll music. And classical music. But not country music lol Also I am attaching a pic of the smoke, through one area I could barely see the road! Poor humans living around this area!!
I love love love Michelle, she knows her stuff. Her place has all kinds of that stuff she knows about. Horses and ducks and turkeys and chickens. Hey Sasha--she sells muscovy ducks and will have a trio available this fall. Woohoo! And she has white turkeys that are so pretty! So many I could not see straight. I should have taken pics, I did not think about it, I was way too excited to be getting my babies. There were more chickens there than....welll...than anything I have seen so far. So if any of you get the chance to go over there, someday, do it!
Qcu poultry is a very fun and happening place.
The worshipped egg we are seeking: (Second one from left!)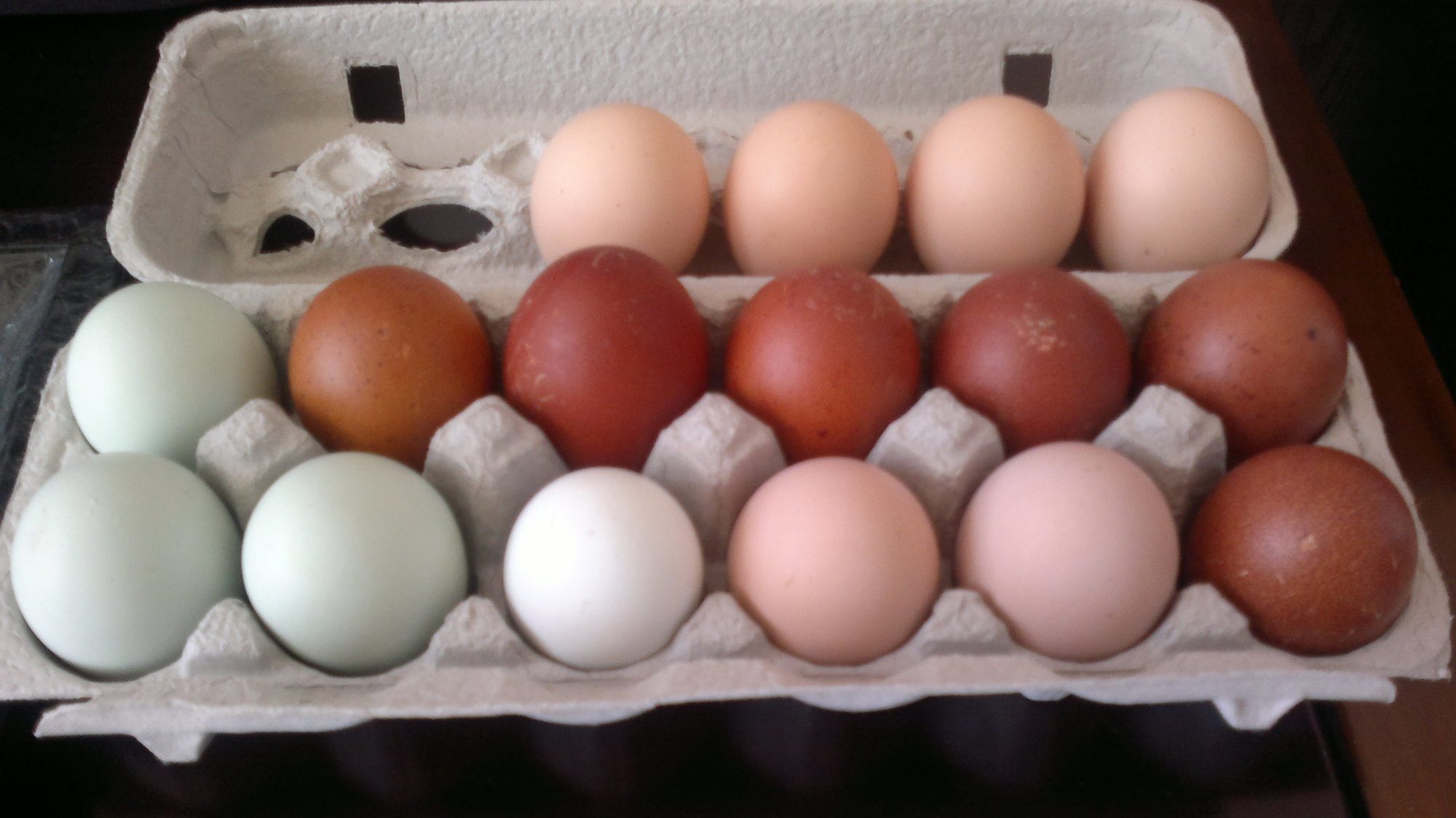 The smoke----
~Lisa   the overworked pet to a flock of 45 spoiled girls and 1 handsome boy: Turkens, Rocks, Sexlinks,  Houdans, Marans, Olive EE's, EE's, Ameraucanas, Polish,  Showgirls, a Delaware.
http://www.backyardchickens.com/a/la-casa-de-pollos-member-page
~Lisa   the overworked pet to a flock of 45 spoiled girls and 1 handsome boy: Turkens, Rocks, Sexlinks,  Houdans, Marans, Olive EE's, EE's, Ameraucanas, Polish,  Showgirls, a Delaware.
http://www.backyardchickens.com/a/la-casa-de-pollos-member-page