I had one like this guy last year (without the extra toe) and as he grew, the color in his wings got even more color! Purple, turquoise, dark blue. Yours looks like he could do the same. I think I have one like this in my 4 weeks olds. The comb isn't as pink as some of the other cockerel suspects so I'm crossing my fingers it's a she but at least I know I can sell him on Craigslist if he turns out like my other one and what I think your guy will turn into.
If anyone is looking for a beautiful roo, this guy should be a very colorful looker!
Quote:
Originally Posted by
ronott1

Hi All 
This is supposed to be the hottest day of the week in the North Central Valley(Sacramento area). How are your chickens doing today?
I have an interesting EE project that I accidentally became a part of. I ordered SG Dorking eggs and was sent SG Dorking crossed with Americauna hatching eggs. Three of them hatched and I have the most amazing Easter Egger chickens.
This is the Cockerel: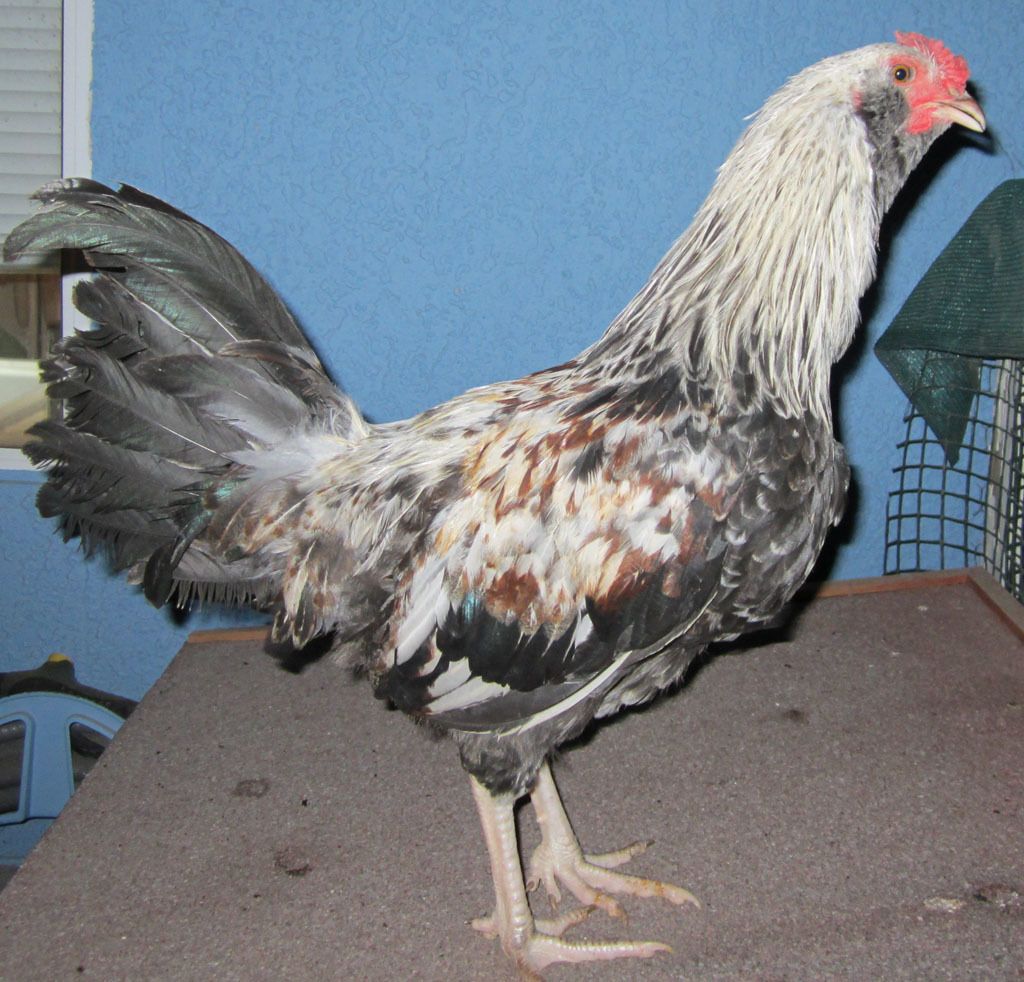 He has a beautiful Pea comb, muffs, white legs and five toes! He also has the most beautiful coloring and should have nice blue egg genes. He is also getting big faster than the Hatchery SG Dorking from McMurray.
He is friendly too.
If anyone wants him, let me know. He is going on Craigslist today, but if any of you want him, he is yours for free.
Ron
Pam ~ (Formally BigDaddysMom) Married 33 yrs, 2 kids, 5 grandkids! Breeding: Polish; WC Black, White, Splash, Black, Silver & Gold Laced & EE's. Black and Blue Copper Marans & Olive Eggers. Layers: EE, RIR, Sexlink, Australorp, Marans! http://www.facebook.com/HighNDryFarm
Pam ~ (Formally BigDaddysMom) Married 33 yrs, 2 kids, 5 grandkids! Breeding: Polish; WC Black, White, Splash, Black, Silver & Gold Laced & EE's. Black and Blue Copper Marans & Olive Eggers. Layers: EE, RIR, Sexlink, Australorp, Marans! http://www.facebook.com/HighNDryFarm