I did a very bad thing and am now experiencing some consequences. We left our 4 hens with some friends (also chicken owners) who had an empty chicken tractor, while we were gone for the holidays for 2 weeks. I KNOW you're never supposed to do that, I didn't want to, it was the only option we had, and now look what happened!  So you can all use me as an example for other folks who need to practice good biosecurity.

Anyways, I picked up our chickens last night and brought them home - it was dark and I just had a headlamp so I didn't get a good look at any of them.  This morning I realized that our black sex-link had a funky eye, and it's gotten worse by this afternoon.  This morning one of her eyes looked fine, but now it's bubbling.  The other one is completely swollen shut and that nostril has yellow gunk caked around the outside of it. 

Her breathing is labored (she gurgles on and off) and her face definitely stinks.  She isn't listless - she tried to run away from me - but she's definitely not 100% energy.  We have quarantined her while we figure out what to do.

From reading other threads, I gather this is some sort of respiratory issue.  The three outcomes I see are 1) she dies (either from disease or we cull her), 2) she recovers and it's nothing to worry about, or 3) we can treat her, she recovers, and she's a carrier.  We are planning on getting rid of the chickens next summer anyways because we'll be traveling for 2 months, so I'm not super concerned about having a carrier in the flock.  I'll clean out the coop at that point.

My friend said she didn't notice anything like what I saw this morning during the 2 weeks our birds were over there.  She's a pretty caring chicken owner, so it's plausible to me that this just came up - it's certainly developed fast today.  None of the other chickens have any symptoms. 

So, my questions are:
1) Is there any way to tell whether this is a viral or bacterial thing?  I don't want to give antibiotics if it's a virus.  Everybody seems to say "give antibiotics anyways because it will treat secondary infections", but I'm not sure I buy that.
2) I do want to do SOMETHING for her besides keeping her warm and giving her treats.  I have cleaned off her nostrils with a wet Q-Tip so she can breath better.  Any other ideas?
3) Given that we're going to get rid of the birds next summer anyways, is there any reason I should really consider culling?  I'm not against it if she's going to die anyways and I could save her some misery, or if there's another good reason.

Pictures below - thanks for any help!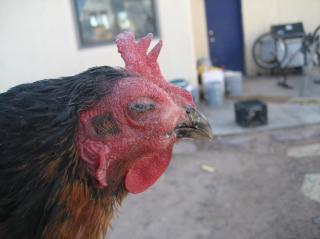 Her "face" is much more swollen than it looks like here, and the front of her comb is laying over.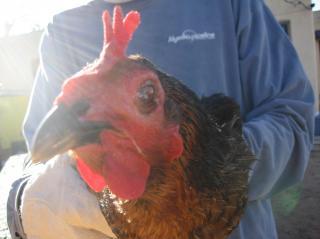 This eye was fine this morning and is now bubbling.
Edited by dukecitychick - 1/7/10 at 8:21am