It seems we are quickly becoming the local animal rescue source and anyone who has unwanted pets, like last year's Easter bunny or chicks, drop them off.  A man dropped off this bunny the other day.  Does anyone know what type it is?  He said his daughter bought it for her daughter (his granddaughter) last year for Easter and as we all know, the novelty quickly wore off and it ended up at Granddad's place, who has been taking care of it.  His wife heard we had a farm (she works at our bank) and wanted to know if we would take it.  What could we say......?

So, what is it?  I'll probably end up getting it a companion at least.  I haven't checked to see if it's male or female and he didn't even know but said he thought it was a female.  I did attempt to get it out of the cage to check but it freaked and bucked and went berserk so now I have scratches all over my chest and stomach.  So I'm letting him/her calm down a bit.  At least the guy gave us cage and all but the sad thought is that the bunny (and he said that's its name "bunny") has lived in this small cage without any attention for one year.

All those who know me and my style of raising animals will know I'll soon have this bunny running free around our farm just like all the other animals - in the meantime we'll have to build it larger quarters.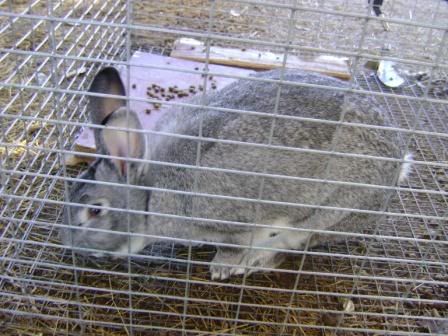 Here's the lamb someone dropped off a few months back because they didn't want to bottle fed him - we call him Lambo and we really love him.  He lives with our dogs and runs in and out of the house:




And, we have someone bringing a young steer, a registered Texas Longhorn, that was given to them but they are unable to care for.  Such is life on the farm......