I bought three game chicks from someone when they were just a few days old. They are now 8 weeks old. There are two cockerels and one pullet. One of the cockerels is normal looking, the pullet is half and half, and the black cockerel has NO FEATHERS on it's neck! It looks so ugly! Is this an actual breed or what the heck?! He told me that their mother (who I saw and was normal looking and black) was a called a "N***** Round Head".

Here is a picture of all three.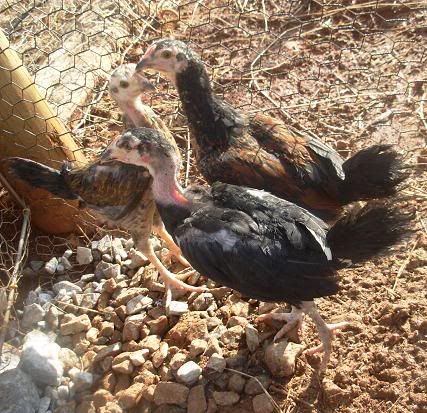 Edited by wjallen05 - 2/8/10 at 9:59am
.Jamie.
4 hens (Christmas 7 yr Buff Orp, Eliza 7 yr EE, Emma 3 yr Brahma, Raven 1 yr Black Aust) & 5 EE chicks
1 Australian Shepherd, Blair 5 1/2
1 black cat, Panther 2 1/2
.Jamie.
4 hens (Christmas 7 yr Buff Orp, Eliza 7 yr EE, Emma 3 yr Brahma, Raven 1 yr Black Aust) & 5 EE chicks
1 Australian Shepherd, Blair 5 1/2
1 black cat, Panther 2 1/2