HELLO HELLO ANNA~~ My Fellow Tucsonian!!

I am in central Tucson also...Glenn and County Club area!!

Here is a link to the city regulations on keeping animals in the city of Tucson.

http://www.awasa.org/tucson_code_IV.html#S4-56

Right now they have lots of chicks at OK Feeds on Dodge and Ft. Lowell. I go there just to watch the chickens play.

Best wishes to all of us on finding inexpensive building materials. If you call the City and find out when the next "Bulky Brush Pick Up" is due in your area, you can often find lots of neat building materials just out on the curbs that everyone wants to be rid of! I have found lots of neat stuff to use in my garden that way.

I will be out there seaching with you!!

You can email me and maybe we could get together and talk about chickens!! If you get your chickens before I do, maybe I can come play with your chickens???

I still have work to do on my husband before I will get him to agree to keeping chickens in the backyard!!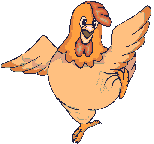 Edited by rebbetzin - 7/11/08 at 11:55am