I am always interested to know the different sizes, shapes and colors of eggs laid by different breeds. So, I gathered up an egg laid by each of the breeds that I have, and labeled them (I have watched them enough to know who lays what egg)... I hope that some of you might find this useful.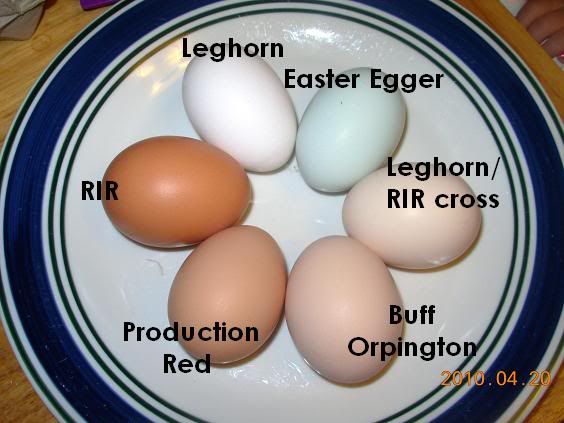 .Jamie.
4 hens (Christmas 7 yr Buff Orp, Eliza 7 yr EE, Emma 3 yr Brahma, Raven 1 yr Black Aust) & 5 EE chicks
1 Australian Shepherd, Blair 5 1/2
1 black cat, Panther 2 1/2
.Jamie.
4 hens (Christmas 7 yr Buff Orp, Eliza 7 yr EE, Emma 3 yr Brahma, Raven 1 yr Black Aust) & 5 EE chicks
1 Australian Shepherd, Blair 5 1/2
1 black cat, Panther 2 1/2