Up for 1 day auction
10+ BBS or White Silkie Eggs
Winner needs to pay via paypal to mandy12785@mail.com
as soon as possible following auction close so I can get them mailed out tomorrow July 5th.
Cannot guarantee how many of each color you will get but I currently have 13 eggs (from yesterday and today) and will include all eggs laid from today and tomorrow morning as well.
My kids collected the eggs yesterday and late this morning so they all got mixed up and not sure which ones came from which pen so they will not be marked as to which pen they came from.
All of my birds are breeding or show quality.
All of them are bearded with correct confirmation including,
dark skin and eyes, little to no webbing in the toes and good to amazing amount of foot feathering.
Many of my birds have vaulted skulls and many of the chicks hatch with vaulted skulls as well.
Currently I am getting 75-90% hatch rate from my own eggs in my LG.
I have not trimmed their butt fluff to allow them to get into show condition by the fall show season so fertility isn't 100% but is still very high.
Many of my girls are just off being broody so they got a nice break from laying and have been fattening up the last couple weeks and are now laying pretty well again.....
My splash rooster during a moult this spring.

My white rooster during moult this spring sorry I only have a cell phone camera right now so the photos do not do them justice at all!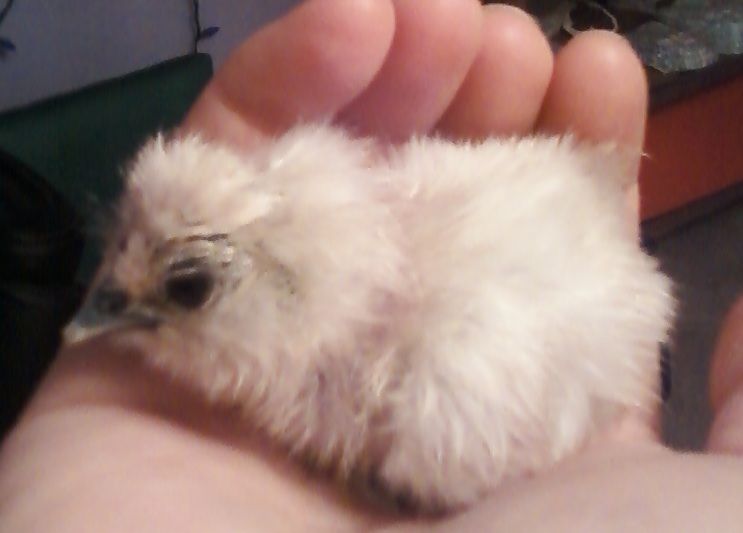 1 of my little vaulted white chicks still a little wet just out of the incubator before going into the brooder and you can see how fat and fluffy is it already!
I cannot be responsible for eggs once they leave my hands so I always include as many extras as I can to make up for loses. I package using lots of bubble wrap in a large/med to large size box to allow lots of room for cusion around the eggs.
Starting Bid: $25
Shipping is not included in the auction price and is $15 priority mail including delivery confirmation.
Auction ends at 3pm PST tomorrow July 5th so I can get them in the mail tomorrow.
Edited by 2hot2chicken - 7/4/12 at 11:40pm