Hi, and welcome to the official Crazy Cockerals of BYC!!!

~~~~~~~~~~~~~~~~~~~~~~~~~~~~~~~~~~~~~~~~~~~~~~~~~~~~~~~~~~~~~~~~~~~~~~~~~~~~~~~~~~~~~~
Only Crazy Cockerals and Roosters allowed-
Cockeral: a male rooster under 1 year of age. This is only for "cockerals" and "roosters"

☺☻☺☻☺☻☺☻☺☻☺☻☺☻☺☻☺☻☺☻☺☻☺☻☺☻☺☻☺☻☺☻☺☻☺☻☺☻☺☻☺☻☺☻☺☻☺☻☺☻☺☻☺☻☺☻☺☻☺☻☺☻☺☻☺☻☺☻☺
77horses, from the Crazy Pullets Thread wrote:

OK, this is for the Crazy Pullets and the Crazy Cockerals. I have an announcement to make and it's serious.

Lately, the Cockerals and Pullets have been fighting a lot. I must admit that I've joined in on it in defense for the Pullets, but neither side is right. Cockerals, you are NOT better than the Pullets. Pullets, we are NOT better than the Cockerals. No one is "better" than anyone and lately all the arguing/fighting/talking about "Who is better than who" and everything has not only possibly driven our other members away, but it has spread into other threads and forums, too. hmm Some people are fine with it and think that it's innocent and fun...Yes, it usually is. But sometimes some of you (*not naming names*) take it a little too far and some people are not happy about it. Before we know it, the complaints about it will reach the mods and BOTH threads will be closed down for good.
This is what some people have said about it lately:

"=.= is it just me? or is anyone else tired of seeing the BYC Pullets and Cockrels(sp?) at the top non stop? i like the thread, i really do! im a pullet myself, but LORD ABOVE HAVE MERCEY! O.O  slow down some? any other pullets reading this, i sorry! Dx gotta get it off my chest. makes me feel better. (i really like the Games, Jokes and Fun thingy....alot.) <--alot of my posts come from that too..."

"This is pointless and juvenile, who cares. Why are the pullets and cockerels even playing stupid mind games like that Well MINE is bigger than YOURS!? Again this is quite foolish and a waste of space and time. This has been going on for a while and it is not only getting out of control, but also more and more insulting."

Someone even started a thread to complain about it.
Now I don't mind the Pullets and Cockerals chatting and having innocent debates about things, but seriously...When it starts affecting other people in the rest of the forum, that's when I think it starts getting out of control.


Please, I'm asking you as the Crazy Cockeral's leader, to please keep the arguing and fighting between the Pullets and Cockerals to at least once and a while friendly debating. And that goes for both the Cockerals and the Pullets. If some of you cannot handle to do this, you will be taken off the list of this club of Pullets. And it's my responsibility to do that. For the Cockerals, whoever is the leader there will be in charge of being responsible and removing any rebellious Cockerals who continue to cause problems from the list. That's not my problem. And if it continues, either an admin/mod will close this thread down or I will do it myself.   

Thank you and I'm only saying this simply to keep the mods from having to deal with any trouble and to keep it from negatively affecting other threads and other parts of the BYC community.
~~~~~~~~~~~~~~~~~~~~~~~~~~~~~~~~~~~~~~~~~~~~~~~~~~~~~~~~~~~~~~~~~~~~~~~~~~~~~~~~~~~~~~
Do you have what it takes to be an official Crazy Cockeral of BYC? If you like being random, funny, doing this all the time 

, and many other things, then this is the place for you! :cool
If you would like to join, please feel free to PM me on here and say what your Crazy Cockeral title will be. Then put it in your signature! 

For example, mine is: " Cookoo Cockeral"  See it in my signature? I also put it as my title, but that's optional to ONLY To  Crazy Cockeral GFM's. You can also request a certain color.
How To Join:
1. Pm your BYC username and cockeral title! That's All!

This thread is for discussing anything at all and requesting that you can join the growing list of Crazy Cockerals of BYC!

Background: The pullets had one so i figured we should Too!
If you would like to have a title, PM me! (if you want a particular font color, let me know!)




CAPTAIN....... MICHAELMAY26!!!!!!
Co-Captain ..... Matthewschickens!!!!!!RETIRED
NEW Co-Captain..... Crazyaboutchickens!!!!!!!
                                                                         The Cocksa)
                                  Michaelmay26(me)          The agelastic  One
                                    matthewchickens            The Funny one RETIRED
                                          ☼6 chix                           The Largest one                                         
                                           ☼Noahsgeese                   The Goose Lovin' one
                                        ☼Chickenrandomness         The Kooky one
                                       ☼Crazyaboutchickens         The Chatty one
                                        ☼ ChickensRock9                The Cheerful one
                                   ☼ Flippacase                     The Crazier One
                                        incubatingisfun              The flighty one.    
                                          golden roo                     Teh Funkeh One
                                      Yessur  Ebob                 The Awesome one
                                          CalebtheChicken            The Grandpa Attacking one
                                   Pet Duck Boy                The Cocky One
                                      Skitz                            The Random One
                                     Mrs. Fluffy Puffy             The non masculine one
                                        Punky Rooster               The Punky One
                                        Nate17                         The Relaxed One
                                          Panhanle RIR                 The intelligent one
                                   can you hear me now?    The Bald Mexican One
                                       melovefrench                  The SPAZZY one
                             chicken boy sam                     The Annoying One
                                Chikoman13                            The Loud One
** If you are a crazy cockeral, add your title/link to you siggy and ask your friend to join!
☺☻☺☻☺☻☺☻☺☻☺☻☺☻☺☻☺☻☺☻☺☻☺☻☺☻☺☻☺☻☺☻☺☻☺☻☺☻☺☻☺☻☺☻☺☻☺☻☺☻☺☻☺☻☺☻☺☻☺☻☺☻☺☻☺☻☺☻☺
Our Motto: We come for FUN!
Our Flag: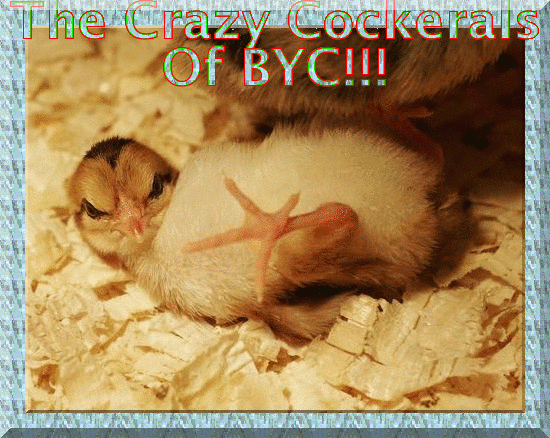 Our Mascot: PLEASE PM ME A MASCOT!
And a round of applause for Kooshie and 77horses, the awesome 2.



~~~~~~~~~~~~~~~~~~~~~~~~~~~~~~~~~~~~~~~~~~~~~~~~~~~~~~~~~~~~~~~~~~~~~~~~~~~~~~~~~~~~~~



WARNING!!!
*

ALL AGGRESSIVE ACTIONS WILL BE REPORTED AND REMOVED FROM THE LIST. IF IT GETS TO WARISH, ME, 77HORSES, KOOSHIE AND MATTHEWSCHICKENS WILL TAKE AUTHORITY, REPORT AND REMOVE ANY ONE WHO DOESN'T FOLLOW THE RULES AND PERMANANTLY STOP Threads. IT HAS GOTTEN TO A POINT WHERE PEOPLE HAVE BEEN COMPLAINING AND LEAVING!*The Ninja Warriors will also come and get you*

RULES:
1. NO FRESH WORDS
2. NO EXTREME VIOLENCE
3. TRY NOT TO BE REPORTED


4.DO NOT, I REPEAT DO NOT SAY TO ANYONE THEY ARE STUPID, DUMB OR IDIOTIC ETC....



If you are a Crazy Pullet, Feel Free To Go back to
The Crazy Pullets
☺☻☺☻☺☻☺☻☺☻☺☻☺☻☺☻☺☻☺☻☺☻☺☻☺☻☺☻☺☻☺☻☺☻☺☻☺☻☺☻☺☻☺☻☺☻☺☻☺☻☺☻☺☻☺☻☺☻☺☻☺☻☺☻☺☻☺☻☺☺☻☺☻☺☻☺☻☺☻☺☻☺☻☺☻☺☻☺☻☺☻☺☻☺☻☺☻☺☻☺☻☺☻☺☻☺☻☺☻☺☻☺☻☺☻☺☻☺☻☺☻☺☻☺☻☺☻☺☻☺☻☺☻☺☻☺☻☺☺☻☺☻☺☻☺☻☺☻☺☻☺☻☺☻☺☻☺☻☺☻☺☻☺☻☺☻☺☻☺☻☺☻☺☻☺☻☺☻☺☻☺☻☺☻☺☻☺☻☺☻☺☻☺☻☺☻☺☻☺☻☺☻☺☻☺☻☺☺☻☺☻☺☻☺☻☺☻☺☻☺☻☺☻☺☻☺☻☺☻☺☻☺☻☺☻☺☻☺☻☺☻☺☻☺☻☺☻☺☻☺☻☺☻☺☻☺☻☺☻☺☻☺☻☺☻☺☻☺☻☺☻☺☻☺☻☺
Edited by 44Wolves - 12/27/10 at 7:00am
I think I might be addicted to BYC once more!
Proud papa of a wheaten maran, 1 hamburg x Ameraucana cross, 1 lakenvelder x Ameraucana cross, and 1 olive egger.
'Survivor'-like trivia game HERE!