Quote:
Originally Posted by
RaeRae2

Well, we went to the avian vet and he thinks it is a severe calcium deficiency.  He did a good exam and he couldn't feel anything wrong with a joint or any kind of break or injury.  He did some neurological tests on her feet and legs and said she is having a lack of muscle contractions to move the limbs.  He said in high producing birds, this is almost always a calcium deficiency. Calcium controls the contraction of muscle fibers.  I did ask him about B Vitamin deficiency and he said no - extremely rare in birds, you almost never see it.  I asked if he could give her a B Vitamin injection just in case, and he said it would be a waste of money and time.  He is SURE that when this happens to birds, it is never a B Vitamin problem.  Hmmmm.  He did pull blood to test her calcium level and he will call me today.  That will help us to know how much to be supplementing her with.
So, he put her on Osteo-Form calcim/phosphorous supplement, and Baytril suspension, just in case.
The GREAT news is that she stood up completely straight on her own several times last night - legs all the way up - and she even walked 7 steps once I got her home!  Yes she looks like an old granny pushing a walker - but they are completely steps.  That is the first she's moved in 8 days.
He said another distant possibility - hens that lay huge eggs can get pinched nerves as the large egg travels down the (??? can't remember the terminology he used).  The tract, whatever it's called.  And when that happens, it takes times for the swelling around the nerve sheath to reduce and restore movement to the bird's legs.  He thought this was fairly unlikely for her because she lays these big eggs all the time and she never had a problem before.  It's most likely when you have a hen who suddenly produces one really huge egg out of the blue.  But - it is something we will consider if the calcium blood level comes back well within the normal range.
She is also getting a general vitamin/mineral powder in her drinking water and all the varied foods I can feed her.  We stopped at Wendy's on the way home and she got a chicken salad.....she enjoyed the lettuce and shredded chicken.
As of this morning, her color has returned to her face.  She was really pale and bleached out at the vet's office because she was so stressed from the car ride and blood draw. 
She was really going after the oyster shell last night when we got home.  So maybe she is really craving calcium?
Anyway, I'll keep updating in case anyone digs this thread up in the future and has a similar problem.  Maybe Birta's experience can help someone, along with the other great posts that have been on this thread.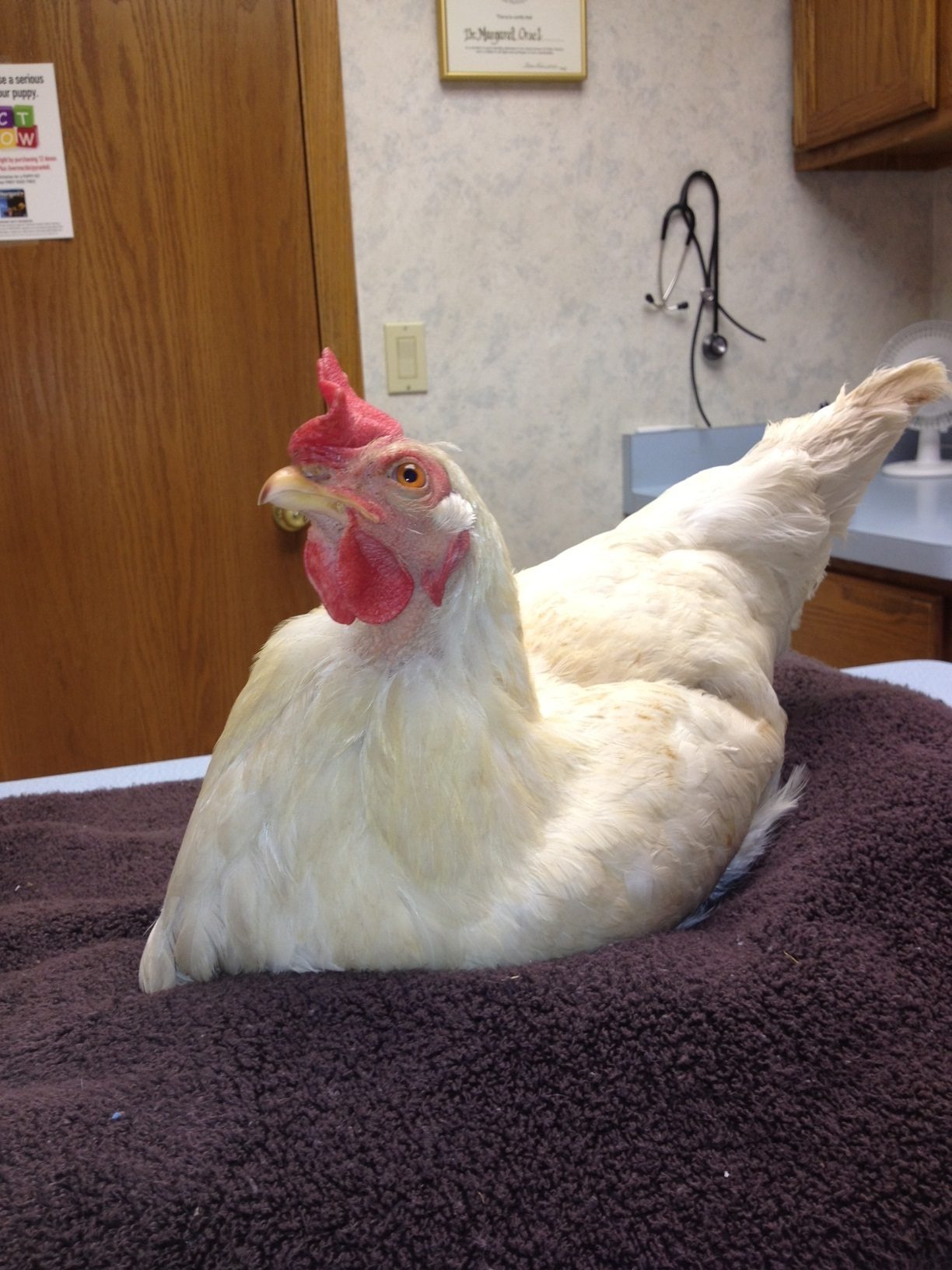 Great news that  it is treatable. Keep us updated on how she is doing.  
Living in the Beautiful Mountains of Western N.C.. with 16 chickens= EE's, Game, Cochin bantams,Light Brahma,  13Muscovy ducks, 1Embden Gander,1 Toulouse goose, 3 mini Dachshunds, 1 mixed breed, pond goldfish,  and a wonderful Husband who makes it all possible..♥

 
Living in the Beautiful Mountains of Western N.C.. with 16 chickens= EE's, Game, Cochin bantams,Light Brahma,  13Muscovy ducks, 1Embden Gander,1 Toulouse goose, 3 mini Dachshunds, 1 mixed breed, pond goldfish,  and a wonderful Husband who makes it all possible..♥